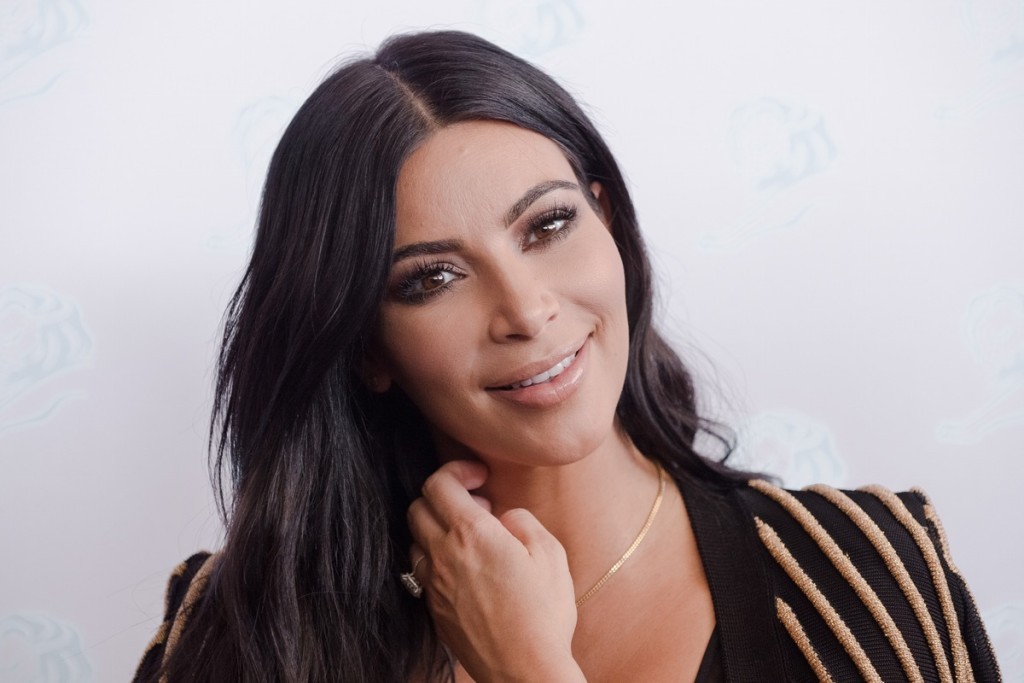 A lot of us have been hearing about this Kim, and almost everyone knows that Kim Kardashian is a television and social media personality, socialite, model, as well as the star of the reality tv show, Keeping up with the Kardashians.
It is also true that she scarcely lives a private life as almost every information about her is bared to the public. However, how much do you think you know about this popular global figure? Here, we bring you 45 interesting things that may not have crossed your mind about Kim Kardashian.
45 Quick Facts About Kim Kardashian
1. Kim was born Kimberly Noel Kardashian on the 21st of October, 1980, to Kris Jenner and the late attorney Robert Kardashian, in Los Angeles, California.
2. Her first name Kimberly is an English baby girl name which means "from the wood of a royal forest". This may have something to do with her rise to stardom.
3. Kim is of a mixed descent, having an American Dad and a Dutch-English-Irish-Scottish Mum.
4. Kardashian attended Marymount High School, an all-girls Catholic school in Los Angeles.
5. Her initial life ambition as a child was to be a teacher.
6. At the age of 14, Kim had a lavish birthday party held in her honor at the Michael Jackson's Neverland Ranch.
7. Before she hit fame, Kim was a stylist for Lindsay Lohan and Brandy and a Closet Organiser.
8. Kim Kardashian is a High school dropout. She never went to college. But then, she is a highly successful multi-faced entrepreneur. Kardashian stars in a popular reality TV show; she has published books, has graced the cover of Vogue, launched a popular app, has a clothing line, a perfume, and much more.
9. Her first emergence to the media limelight was made possible through her friendship with Paris Hilton, another popular American TV personality, and model. They were childhood friends but Paris rose to stardom right in time before Kim and then drew her to media attention, modeling and fame.
10. The highly envied Kim is average in height. She is just 1.57 meters (5′ 2″) tall.
11. Kim had her first marriage and divorce at the ages of 19 and 23 respectively. That was with music producer Damon Thomas. Since then, she has been married twice: Kris Humphries (2011–13) and Kanye West (2014- present). After 72 days of marriage with Kris Humphries, Kim filed for divorce, citing irreconcilable differences.
12. Kim Kardashian received wider media notice after a 2003 sex tape with her former boyfriend Ray J, an American singer, songwriter, record producer and actor was leaked in 2007.
13. The leaked tape earned Kimberly a whopping $5 million. This was paid to her as 'settlement' by Vivid Entertainment who were selling and distributing the tapes then.
14. In 2008, Kim was the most googled celebrity, beating Britney Spears who had previously held the title for four years.
15. She made a cameo appearance in How I Met Your Mother in 2009.
16. The same 2009, she bagged an endorsement with ShoeDazzle shopping, of which she is the co-founder and chief fashion stylist. She then endorsed multiple other projects including a vanilla cupcake mix flavor called 'Va-Va-Va-Nilla' for the Los Angeles bakery, Famous Cupcakes.
17. On July 1, 2010, the New York City branch of Madame Tussauds revealed a wax figure of Kardashian.
18. Her role model is Jennifer Lopez. Kim says she lives for her. "Everyone knows that I absolutely live for her!" said Kim. "There's never a time she looks bad!"
19. Kim Kardashian's favorite supermodels are Cindy Crawford and Linda Evangelista.
20. Kim dated Nick Lachey (Jessica Simpsons ex-husband) and Lachey later hinted that while he was dating Kim, she alerted the paparazzi to their whereabouts so she could be photographed.
21. Kim's favorite food is deep-fried Oreos and strange enough, she has said in interviews that she is attracted to certain foods simply because she knows they are not good for her. She hates being on a diet and can never be stick thin because she loves food too much!
See: Favorite Meals of Popular Ghanaian Celebrities
20. Despite her busy schedules and wealth, she still does household cleaning. This she revealed in an interview saying everything in her home "has to be immaculate" in order for her to accomplish everyday tasks. "I can't take a shower unless the bathroom is absolutely spotless; I think I'm totally OCD," she said. "I have a cleaner who comes three times a week, but I always do the cleaning on top of that."
22. Kim Kardashian since her rise to popularity has dated among other ordinary men, over 10 famous celebrities. This does not include the ones she officially married.
23. Kim Kardashian is the highest earning reality television star in the history of the world. Her 2016 income according to Forbes stood at $51 million, which is an accumulation of interview fees, profits from her clothing collection, perfume sales, TV appearances and film roles.
24. In a list of the 'Top 10 Celebrity Playboy Bunnies,' Kim Kardashian who posed for Playboy in December 2007, came in third, behind Marilyn Monroe and Pamela Anderson.
25. In 2008, Kardashian was the third contestant to be eliminated from the seventh season of 'Dancing with the Stars', where she was partnered with Mark Ballas.
26. Kim founded a production company called Kimsaprincess Productions through which she released three successful workout videos.
27. Kim Kardashian is a Christian and once expressed her intention of starting a Bible study session with her friends. She attends Sunday services and also pays her tithes unfailingly.
28. In addition, she considers herself to be a spiritual person and believes that her late father contacts her through dreams. Kim recently told Oprah that her late father is still one of the most important men in her life and is watching over the family.
29. Kim Kardashian has been accused of having done plastic surgery for her butt, breasts, eyes, and cheeks. She said she has tried botox in the past but, that she has had no other procedures. In 2008, she even posted a picture of herself as a teenager in a bikini on her website to prove the body she has now has not been altered. She was also recently accused of waxing her little daughter's eyebrows.
30. Her wedding with Kris Humphries cost her $138,888 per day of their marriage.
31. Before she got married to Kanye West, She bought him a $400,000 Lamborghini for his 35th birthday. Also, for Kanye's 38th birthday, Kim doled out a whopping $110,000 to rent out the entire Staples Center, in Downtown Los Angeles.
32. Kim married Kanye West on Saturday 24 May 2014 at the breathtaking Forte di Belvedere (an imposing fortress that dates back to the 16th century), in Florence, Italy. It's most likely that Kim will end up with Kanye West for life, considering their love and compatibility which they constantly publicise on the social media.
33. Her net worth is $85 million while Kanye West's is $130 million.
34. Kim Kardashian owns a $325,000 white Ferrari 458 Italia Spider.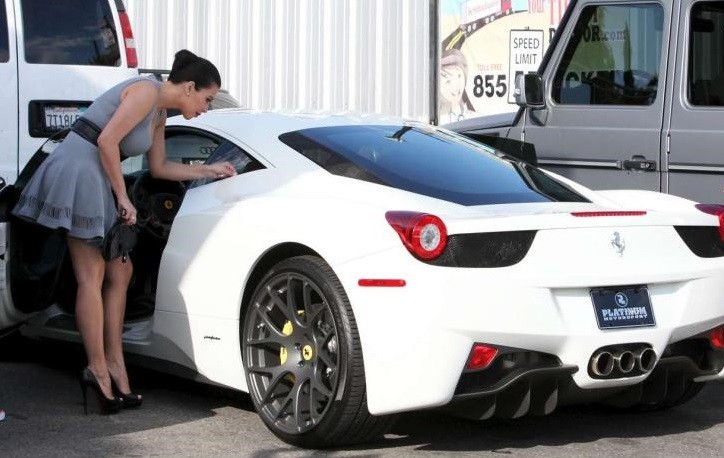 35. Her Daughter with Kanye West, North West was baptized in a Jerusalem Church In April 2015.
36. Kim and her husband have decided to keep their daughter, North West away from the reality tv show.
37. She recently published a book, "Selfish" filled with selfies, mostly in bathing suits.
38. Kim was once paid $25,000 to tweet about a brand.
39. The family reality tv show, Keeping up with the Kardashians is a deal with E! reportedly signed for $40, 000, 000.
40. Although Kim is a famous worldwide figure, Anna Wintour banned her from the Met gala in 2012. She let her attend in 2013 but banned Kris Jenner.
41. She's an author, she wrote a book with her sisters Kourtney, and Khloe entitled Kardashian Konfidential.
42. Kardashian currently has over 55 million Twitter followers, ranking no. 12 among all Twitter users in terms of the number of followers. She has also at the moment, garnered over 100 million Instagram followers!
43. In 2015, Kim doubled her income just in a space of one year. She was placed 33rd on Forbes list of World Highest Paid Celebrities with an income of $52.5 million that year.
44. She Reportedly Spends $100,000 just on a Professional Selfie Re-Toucher as well as $1 Million on her Beauty Regimen Per Year.
45. Kim's biggest regret is delving into music, this has to do with the single called Jam (Turn it Up) which she released in 2011. Here's what she once said about it:
"It's definitely a memory and it was a fun experience. We gave the proceeds to a cancer organization. But if there's one thing in life that I wish I didn't do … I don't like it when people kind of dabble in things… And that I don't think I should have. Like, what gave me the right to think I could be a singer? Like, I don't have a good voice."