Like other big occasions such as weddings, it is important you put in the time and effort during anniversaries. Celebrating a wedding anniversary is a reminder to your partner about how much you value your marriage. In fact, research shows that couples who celebrate their wedding anniversaries tend to stay married, longer than those who don't.
Experts say that for marriages to last longer, the positive feelings must override the negative ones. Wedding anniversaries are important and offer a perfect opportunity for married couples to show their affection for each other despite the challenges they might be facing. During anniversaries, couples can receive or exchange gifts and look at each other from a positive light and remember the day they decided to settle down together.
Married couples choose to do different things during their wedding anniversaries. Some couples choose to go out to dinner at their favorite restaurants, others choose to do something they have never done before like riding in a hot air balloon. Whatever you choose to do, this is the perfect time to show your affection through well thought out wedding anniversary gifts. During your first wedding anniversary, it can be easier to come up with a wedding gift idea. However, in subsequent years you tend to run out of ideas on the perfect anniversary gift you should get for your partner. This may leave you feeling overwhelmed. You can
read more here for a comprehensive list of anniversary gift ideas by year. However, in this article, we are going to look at different traditional gifts ideal for landmark anniversary celebrations.
1st Wedding Anniversary
The first wedding anniversary is associated with paper gifts. This is so because of the fact that a paper is taken to symbolize a blank space where the married couples can write their story together. Also, a paper represents the fragility of marriage due to challenges. Therefore, paper gifts encourage married couples to stay together during turbulent times. In addition, a paper gift represents good communication, trust, and loyalty that will help married couples overcome challenges together.
In modern times, people have resorted to substituting paper for clock. You can mark your first anniversary with a clock to show how timeless love is. You can also give a yellow rose. Other 1st anniversary gifts include postcards, calendar, book, and art print.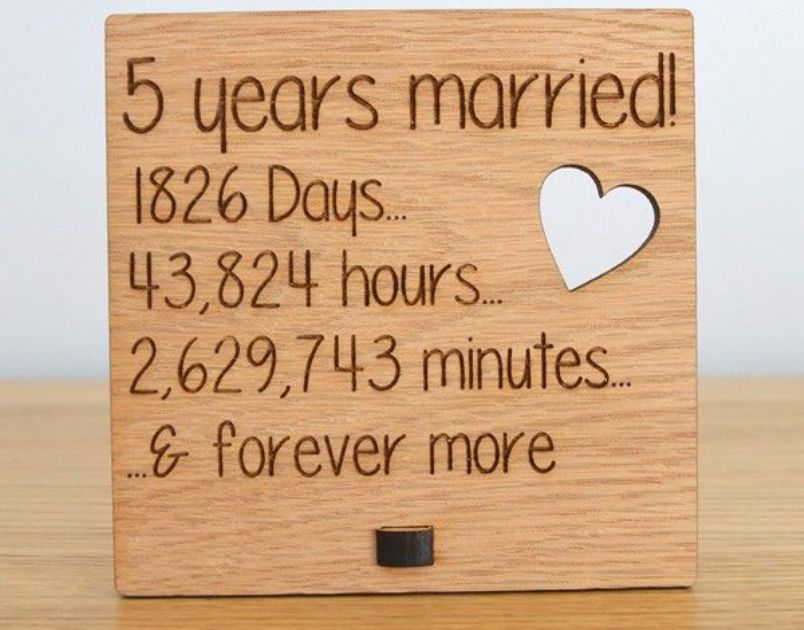 5th Wedding Anniversary
Back in the days, married couples marked the fifth wedding anniversary with a gift made of wood. Wood was a symbol of solidity and understanding between the couples during their 5 years of marriage. Today, married couples can mark their 5th anniversary with silverware which represents purity and strength. You can also choose to give a pink or blue rose during fifth wedding anniversary.
10th Wedding Anniversary
The tenth anniversary has been linked with gifts that are made of tin in the US, while aluminum was traditionally used as a gift in the UK. These metals are said to be symbols of flexibility and durability which represents 10 years of marriage. Modern couples can use diamond as a perfect anniversary gift to mark 10 years of marriage; diamond is a symbol of beauty and durability. Couples can also use a silver or blue rose to mark this occasion.
25th Wedding Anniversary
For many years, the 25th wedding anniversary has been considered as the silver anniversary. Couples who reach their 25th anniversary should celebrate this incredible milestone with a perfect anniversary gift befitting the occasion. During the Roman Empire, husbands used to mark the 25th wedding anniversary by presenting their wives with a wreath made of silver.
Today, married couples who reach this milestone can celebrate it by presenting their wives with a silver plated rose. Silver plated rose is a perfect anniversary gift which represents wisdom, faith and hope for the future. In addition, a silver rose is a symbol of eternal love and a happy marriage that is enduring. There are other wedding anniversary gifts you can choose for your partner other than a silver dipped rose. They include silver jewelry such as earrings, necklace, and bracelets or silverware such as bowls and tea set.
50th Wedding Anniversary
Not too many couples are blessed enough to reach their 50th wedding anniversary. Therefore, if such a feat is reached, it should be celebrated like no other. Whether it is your parents, relatives, friends or yourself, you should not let the 50th wedding anniversary pass without the right recognition. If you are wondering how this whole anniversary idea started and the manner in which it has been celebrated; then you must know that back in the age of Roman Empire, husbands gave their wives a golden garland to mark their 50th wedding anniversary. Today, you can present your wife with a gold plated rose to celebrate your golden wedding anniversary.
We have seen the traditional gifts that are usually given during landmark anniversaries and celebrations. While these gift ideas are not cast on a stone, silver or gold plated roses tend to be a perfect gift for any anniversary as whatever you chose to give for anniversary should be guided by the desire to offer something that the receiver would appreciate and cherish for many years to come.