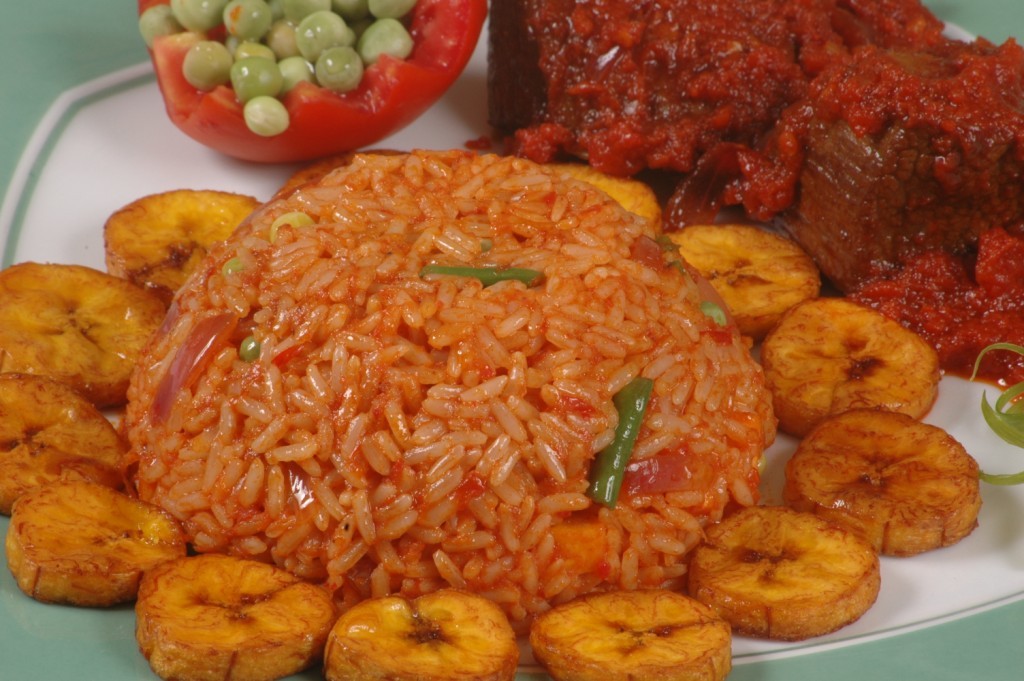 The Jollof Rice War is one interesting debate that very many prominent personalities across the world have waded into at one time or the other.
Meanwhile, the one between Ghana and Nigeria is the most popular ever. Nigeria versus Ghana Jollof battle actually sets the pace in the Jollof Rice brouhaha. When other countries of the world are occupied with issues of grave significance, Ghana and Nigeria's heated controversy lies in a pot of rice!
The funny thing about the debate is that it has remained endless. Most of the times, the debaters struggle out of the conflict sweating away with laughter with no victor and no vanquished. In Nigeria, Jollof is the food for favorite national pastime – partying. Coming down to Ghana, Jollof rice is also a popular and highly esteemed dish.
Now, let's have a look at some of the most interesting Jollof debates by celebrities and prominent personalities from around the world.
1. Ghana Jollof Is Crazy! – Wizkid
Nigerian musician, Ayodeji Ibrahim Balogun, popularly known as Wizkid described Ghana Jollof as "crazy" and "bad" while giving his country's dish 100% love. The Come Closer hit-maker was speaking to Ace in a recent BBC Radio 1Xtra interview in London. He said:
"I love Nigerian Jollof 100 percent, but when I go to New York or I am in Ghana, my friend's wife makes this crazy Ghana Jollof with some goat meat…it is bad!" Wizkid said.
2. Nigeria Jollof Tastes Funny! – Sister Deborah
Ghanaian musician, Sister Deborah took the Ghana-Nigeria jollof rice war to a whole new level. The beautiful singer could not hold back her love for the Ghanaian Jollof and her 'disgust' for its Nigeria counterpart, so she went ahead to put it in a song for the whole world to hear her voice!
The video below says it all.
3. Nigeria Jollof Is Delicious! – Mark Zuckerberg 
You wouldn't believe that the Jollof Rice War has gone ahead to involve the founder of the most patronized social media network in the world, Mark Zuckerberg. The American billionaire visited Nigeria in 2016 and could not hide his feelings for the Nigerian Jollof, he took to Facebook Live and expressed his love for the country's red pot.
Zuckerberg's decision to not compare Nigeria and Ghana Jollof made Nigerians believe they've won the war. But, Mark leaked the secret – he said he was warned not to wade into the controversial comparison! Moreover, he may not have tasted Ghana Jollof.
4. Richard Quest Runs Away from the Battle
Richard Quest, Host of popular CNN TV show, Quest Means Business preferred not to get involved in the ongoing Jollof Rice War between Ghana and Nigeria. The renowned CNN reporter just described Jollof Rice as "delicious".
For him, the Ghana vs Nigeria battle is too fierce for him to wade into! During a visit to Nigeria this year, Quest tweeted:
Jollof Rice. Delicious. Ghana or Nigeria? Which is best? I ain't getting involved in the #jollofwar #richardquestinnigeria
Also See: 10 Ghanaian Foods You Must Eat Before You Die
5. Nigeria's Vice President Wades In
Following a mess up of the Ghana-Nigeria Jollof war by Nigeria's Information Minister, Lai Mohammed, the country's Vice President, Prof. Yemi Osinbajo came to the rescue.
To the chagrin of Nigerians, Lai Mohammed in response to Richard Quest's question on which African country makes the best Jollof dish said Senegal.
But speaking at "The Platform Nigeria," a global media live broadcast on Channels TV, Yemi Osinbajo brought a closure to the debate by saying, "we all know that Nigerian jollof rice is the best, we beat the Ghanaians and the Senegalese hands down."
About Jollof Rice
Jollof rice is a common dish in West Africa that derived its name from the Djolof/Wolof people of Senegal, hence its proven Senegalese origin.
The dish has, however, gained widespread prominence in the African continent, with other countries such as Gambia, Nigeria, Sierra Leone, Liberia, Togo, Cameroon, Mali and Ghana having it as a popular meal.
Jollof which is often described as a "reddish one-pot dish" is prepared with rice and tomato sauce plus other optional ingredients that slightly vary by country.
However, the most common and fundamental ingredients for preparing jollof rice include rice, tomatoes, pepper, onions, vegetable oil, salt, spices, meat, fish or eggs. Some of the optional ingredients include vegetables, carrots, sweet corn, peas, fried plantain, crayfish, etc.