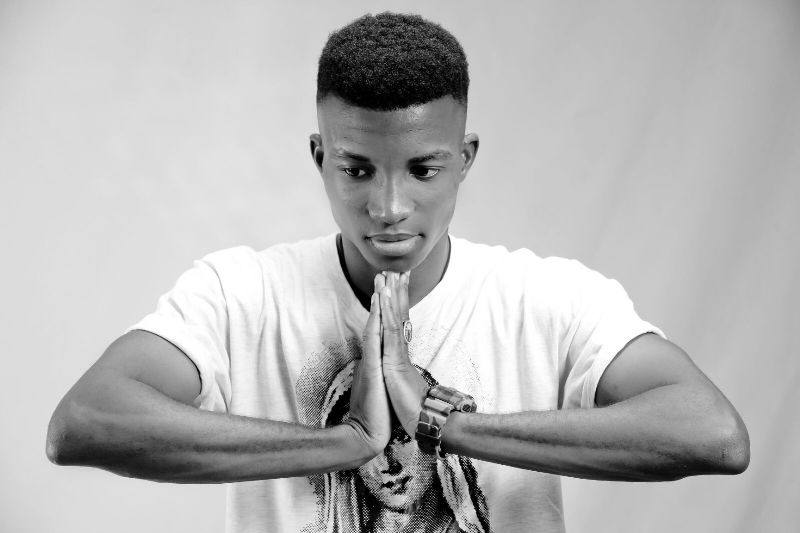 A showstopper, a rapper and seldom called a legend, Musician Kofi Kinaata is an artist whose inspiring works have impacted lives across Ghana and beyond.
Known as one of those artists who has successfully carved a niche for themselves in the industry, Kinaata makes it clear there's something extra special about his approach to music like we've all come to realize. He is one of the multi-talented male rappers taking Ghana music industry to a whole new level.
While the name Kofi Kinaata has become a household name in the country, his fans have only a certain perceived image of the artist. There are other lesser known and interesting facts about Kinaata which we would take you through as you scroll down.
1. His Early Life
Kofi Kinaata was born on April 16th and named Martin King Arthur. He was raised in EffKay (Effiekuma) but he likes to rep Oilcity (Tadi). Kofi Kinaata who has worked with musicians like Samini and Kesse started to rap when he was young. He started getting recognition at Takoradi Technical Institute where he completed his secondary education. Kinaata did a lot of rap battle on radio stations and many platforms during his schools days.
2. Why He's Called Fanti Rap God (FRG)
Kofi Kinaata is popularly known for his Fanti rap and freestyle and therefore known as the Fanti rap god. Kofi pulls a tremendous fan base and followers in Takoradi and across Ghana as anyone who hears his songs and raps falls in love with his lines which are always clear and straight to the point.
The artist has successfully carved a niche for himself in the rap business, by developing a unique approach to the art. Inasmuch as he chooses his words, punch lines, and rhyme scheme carefully, Kinaata also makes his words clear enough for easy decoding by his listeners. This uniqueness can be seen in some of his songs like; Susuka, Confession, Onyi Chorus, and many others.
3. His Rapid Growth in the Industry
Everyone who knows Kofi Kinaata knows he is a big shot in the music industry. However not many know how the artist came into the limelight. Kinaata now rubs shoulders with A-list musicians across the country. Martin King Arthur went home with two prestigious awards at the 2016 edition of Ghana Music Awards – Songwriter of the Year and Best New Artist of the Year.
It was quite a feat for an artist with barely three years in the industry, as most stars in his category toiled for a long time before they gained any meaningful attention. The talented rapper has his creativity and rare touch to thank for his remarkable feats.
4. His 'Susuka' Wonder
Although Kofi Kinaata is popular for his many hit tracks, the artist is most known for the hottest of them all – Susuka. It was the first song to win Kinaata an award at the Vodafone Ghana Music Awards. Also, the song's video was the first by a Western Region musician to exceed 1 million views on YouTube. Nothing could stop the motivational song made for Kinaata's father from becoming a national asset.
5. His Humble Beginnings
Every success comes with a challenge. While Kinaata has grown within a short period of time in the industry, not many know about the artiste's humble days. Before Kinaata became a superstar, he was a Ghetto Superstar. The Fante rap god was well appreciated in his community back in the days, as he knew what the people close to him wanted and kept providing them with it.
Kinaata began with performing at events in his Takoradi community. It is said that it was during one of such performances that he met Castro for the first time. With little influence from such stars, Kinaata gradually made his way to stardom.
6. His Fears
You may not know that a successful artist like Kofi Kinaata has fears like you. The rap mogul has great concerns about how to meet the high expectations of his fans. Although the artist has won the hearts of his fans with his hit tracks, Kinaata always feels pressured by the desire to come up with works better than his previous ones. We choose to believe this is a good virtue  – the zeal to always satisfy one's fans.
7. Kofi Kinaata is Quite Humble
Despite his remarkable achievements, Kinaata is very humble and down to earth. The rare talent always refers to himself as an upcoming artiste despite his popularity; he has been quoted in so many interviews to have said such. Kinaata is never controversial and never compares himself with any of his counterparts – a rare virtue indeed.
8. His Record Label
Kofi Kinaata is managed by Tony Pan, CEO of High Grade Family. Kofi has been with the Family since 2013 and the rest has been history. He has worked with Sound engineers like OilCity Vibes, Osas, Killbeat and Possible Beats.
See Also: 10 Things You Should Know About Shatta Wale
9. Musical Influence
Kofi Kinaata is motivated by a lot of artists. But one of the major acts is Gospel Singer Amy Newman.
10. Two Times Artist of the Year Award Winner in 1 Year
Kinaata is the first artist to win "Artist of the Year" award twice within a year ( VGMA's and GMAUK).