Renowned Ghanaian Mathematician and Scientist, Professor Francis Allotey is dead. News of the iconic Mathematician's death broke on Friday, November 3, 2017, after he passed away at a hospital in Germany on Thursday night (2nd November 2017) at the age of 85.
His death was confirmed by Sarah Ofei, the External Relations Manager of the African Institute for Mathematical Sciences (AIMS-Ghana), who spoke to Peace Fm's 'Kokrokoo' host, Sefa Kayi on Friday morning. According to Madam Ofei, Prof Allotey complained of ill health on Thursday morning and was taken to the hospital for medical attention but he, however, passed on around 10:00 pm on the same day.
Prior to his death on Thursday, the respected Ghanaian professor was scheduled to attend the 39th Session of UNESCO's General Conference in Paris, the next day. Recall that the United Nations Educational, Scientific and Cultural Organization (UNESCO) recently approved the Scientist's centre, 'Professor Francis Kofi Ampenyin Allotey' as a centre of Excellence.
He was buried on Friday, February 23, 2018, when the Ghanaian government accorded him a state funeral. His remains were later interred in his hometown, Saltpond.
Here are 10 quick facts you need to know about the Ghanaian iconic mathematician.
1. Biography
Professor Francis Allotey is the son of Joseph Kofi Allotey and Alice Esi Nyena Allotey. He was born on August 9, 1932, in Saltpond, a city in the central region of Ghana. His father was a general commodities merchant of the Royal Sempe Mankrado We, Accra, while his mother was a dressmaker from the Royal Dehyena family of Enyan Owomase and Ekumfi Edumafa.
Professor Francis Allotey was raised together with his siblings in their family house in Appiakwaa. He has an older brother named Joseph Kweku Allotey and an elder sister whose identity is not known to the public. In his early years, he used to visit his maternal grandmother who lived at Ekumfi Edumafa at the time. The iconic mathematician is said to have been named after his paternal uncle, except that his uncle's name "Kojo" was replaced with "Kofi".
Born Francis Kofi Ampenyin Allotey to a humble parentage, the mathematician had his elementary education at the St. John the Baptist Catholic School, Saltpond, and later the Ghana National College in Cape Coast, a Cape Coast-based senior high school founded by Kwame Nkrumah in July 1948.
Upon the completion of his secondary school education, Professor Francis proceeded to the University Tutorial College, in Ghana, to further his education. He also studied at South Bank University (previously called London Borough Polytechnic). He was awarded a master's and doctorate degrees from Princeton University and a Diploma of Imperial College (London) from London Imperial College of Science and Technology, in 1960.
Professor Allotey died a staunch Catholic, a faith his parents passed on to him. According to reports, he attended church service at Christ the King Catholic Church, Cantonments, Accra, the Sunday before he passed away. He received so many awards from many churches in Ghana, including the St. John the Baptist Catholic Church at Saltpond, where his citation was read.
2. Family Life
Professor Francis Allotey got married twice. His first marriage was to Edoris Enid Chandler, a Barbados-born pretty woman he met while studying in London. His marriage to Enid produced two children named Francis KojoEnu Allotey and Joseph KobinaNyansa Allotey. Sadly, Allotey's wife passed away in November 1981, bringing to an end the joy he had as a married man.
After mourning his wife for some time, the professor went on to marry Ruby Asie Mire Kuwa Akuamoah, who was a mother of two children (Kay and Cilinnie) at the time. Death struck again in October 2011 and took away Ruby, leaving Francis devastated and saddened. Following his second wife's death, the professor decided not to marry again but to rather focus on his family and career. Allotey died a proud father of four children and twenty grandchildren.
3.  Achievements
Francis Allotey was the founder of popular Allotey Formalism. Best described as a Mathematician, Nuclear Physicist, and Informatics Consultant, the Ghanian professor is widely known for his work on soft X-ray spectroscopy through which he discovered a technique used to determine the matter in outer space. It is this technique that is now known as the 'Allotey Formalism'. He was also the first ever Ghanaian Professor of Mathematics. He became the first Ghanaian to become a fully-fledged mathematics professor in 1974, and also rose to the rank of the Head of the Mathematics Department at the Kwame Nkrumah University of Science and Technology (KNUST) in the same year.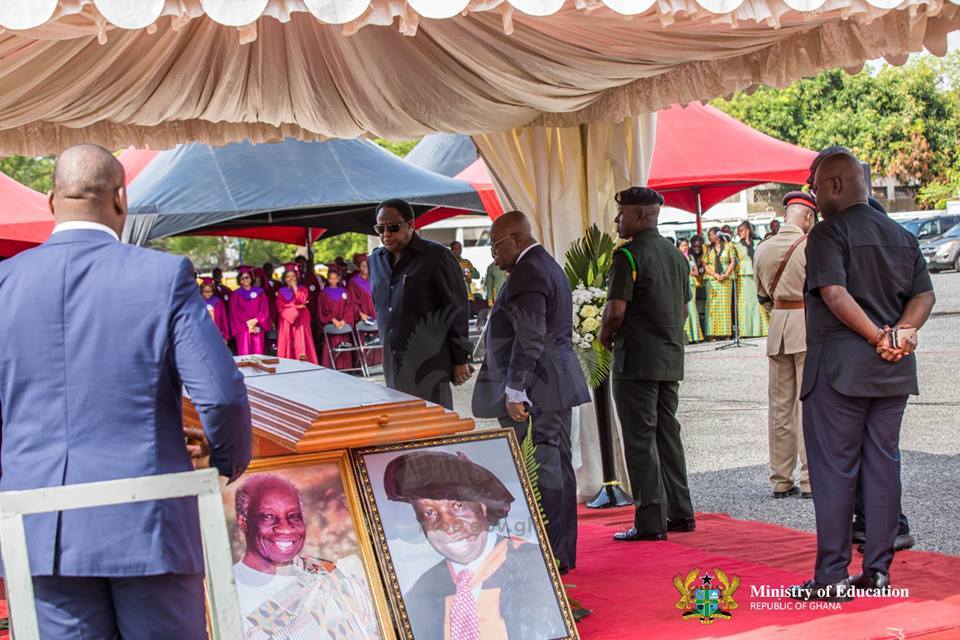 4. International Membership
Prof. FKA Allotey was a member of many International Scientific Organizations. He was a founding fellow of the African Academy of Sciences (AAS) as well as an honorary fellow of the IOP Institute of Physics. He was also a member of the Abdus Salam International Centre for Theoretical Physics (ICTP) Scientific Council. Allotey was inducted as Fellow of the Nigerian Mathematical Society (NMS) as well.
5. Leadership Positions
Over the course of his extensive career that spanned for decades, Allotey held numerous leadership positions at national and international level. These positions are:
President of the Ghana Academy of Arts and Sciences (GAAS)
Chairman of the Board of Trustees of the Accra Institute of Technology (AIT)
President of the African Institute for Mathematical Sciences, Ghana (AIMS-Ghana)
Chairman of the Ghana Atomic Energy Commission (GAEC)
Chairman of the Council for Scientific and Industrial Research (CSIR),
Chairman of the Management Board, Soil Research Institute
Chairman of the Ghana Technical Committee on Nuclear Energy
President of the Ghana Institute of Physics (GIP)
He was Consultant to many International Institutions as well. These establishments include:
The United Nations (UN)
The United Nations Educational Scientific and Cultural Organization (UNESCO)
The International Atomic Energy Agency (IAEA)
Intergovernmental Bureau for Information (IBI)
United Nations Industrial and Development Organization (UNIDO)
6. Awards/Honour
Professor Francis Allotey was the recipient of the BTWSC Black S/Heroes Award (BSA) back in the year 2006. As part of the award, the Professor Allotey Science Prize was launched in his honour. Prior to this, he was honoured with the King/Chevez/Park Visiting Professor at the University of Michigan, USA. Similarly, in 2009, an Accra Institute of Technology graduate school, was named after him. The institution, which was established in 2009 was renamed to The Professor Francis Allotey Graduate School.
7. Francis Allotey was Founder of the Ghana Energy Research Group
In his continual quest to make significant scientific contributions in his home country, Prof. Francis Allotey founded the Ghana Energy Research Group. He took over the position of the group's coordinator in 1985 and was in the centre of the group's impressive achievements over the years.
8. Traditional Leadership Role
Reports have it that Professor Francis Allotey was once selected by family elders to succeed his late uncle as the Chief of his ancestral home (Enyan Owomase) and the Baamuhene of the Enyan Dankyira Traditional area but he instead chose his nephew to take over the reins of leadership on his behalf. His decision to pass on the stool to his nephew was a result of his heavy commitments both internationally and locally.
See Also: Dr. Gloria Osardu Bio and Facts About Ghana's 27-Year-Old Ph.D. Holder
9.  Hobbies
The iconic Ghanaian mathematician is known for doing so many things in his spare time. He loves doing so many things in his own unique way. In addition to his other hobbies, he loves listening to music and watching football. His favorite club is Arsenal F.C while the Black Stars of Ghana are his favorite African team. He also loves Ghanaian music as much as he loves classical and jazz beats.
10. Pioneer Efforts
The professor was the first person to install a black and white television in his home at Saltpond. At the time, he used to visit his family home with a screen projector which he used to show movies like the Assassination of John F. Kennedy, Popeye, Frankenstein, Woodie Wood Pecker, the Wolf Man, and many others.
Professor Francis Allotey will forever be remembered in Ghana and across the world for his contributions to the advancement of science and technology in Ghana, Africa, and beyond.