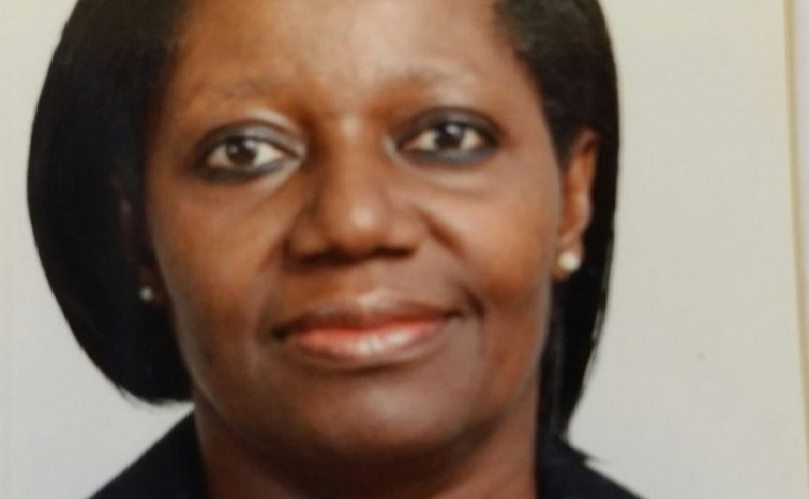 History has been made in Ghana, following the appointment of the first female Cabinet Secretary – Mercy Debrah-Karikari. It is no surprise that with most new administrations, old positions might be lost while new people tend to occupy such positions. As with the new regime of recently sworn in political leader, "President Nana Akufo-Addo, there was a need to appoint new cabinet members who will be instrumental to aiding his smooth transition into office as well as to perform optimally for the stipulated number of years he has in office.
Of all his appointment, his selection of Ambassador Mercy Yvonne Debrah-Karikari is one which has already made history. Apart from the fact that she is a woman as well as the very first female cabinet secretary, she definitely deserves the post and is poised to make her mark in her new office. No doubt, the list of possible nominees for the position of cabinet secretary was a keenly contested one in which various great candidates with equally impressive qualifications were considered. Nevertheless, in  the situation whereby most candidates seem to qualify for a certain position especially when these candidates have similar credentials, then the selection would prove to be more difficult. However, when situations like this arise, other aspects of a candidates life are put into consideration and in the case of  Ambassador Mercy Yvonne Debrah-Karikari, she emerged the best over other contenders.
It should be therefore noted that the newly elected President Nana Akufo-Addo made this important appointment according to the pursuant to article 76(3) of the Constitution and the appointment took effect from February 14, 2017.
To further assert this appointment, an official statement was signed by Director of Communications "Eugene Arhin" at the Presidency.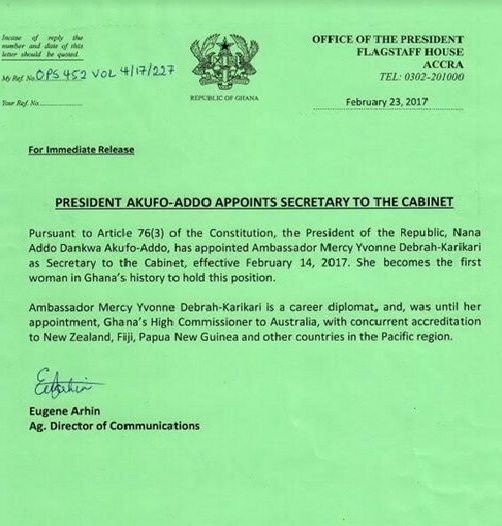 Mercy Debrah-Karikari's Profile
Mercy Debrah-Karikari, Ghana's first female cabinet secretary, is a highly educated woman. Interestingly, she had her secondary school education at the Wesley Girls High School, in Cape Coast, from the year 1971 to 1976, and the Tema Secondary School from the year 1976 to 1978.
She studied at the University of Cape Coast from 1979 to 1984 from where she obtained a Bachelor of Arts degree and a Diploma in Education; and at the University of Ghana from 1988 to 1989 for her Masters degree in International Affairs (LECIA).
Since joining the Foreign Ministry in 1987, Mrs. Debrah-Karikari has also served in the Africa and Policy Planning Bureaux of the Ministry with an outstanding performance.
From 2000 to 2002, Mrs. Debrah-Karikari served at the Ghana Embassy in Bonn as Minister-Consular, and continued at the Ghana Embassy in Berlin from 2002 to 2004, following the relocation of the Embassy to Berlin. This was as a result of the change of the German capital city.
Prior to that, she was acting Director of the International Organizations and Conferences Bureau at the Ministry of Foreign Affairs from 1998 to 2000, having returned from the Ghana Permanent Mission to the United Nations in New York, where she had been posted from 1995 to 1998 as Consular and Ghana's delegate on the Second Committee of the United Nations.
Before serving in New York, she had served as the Head of Chancery at the Ghana Embassy in Luanda, Angola from 1994 to 1995.
Until her appointment, the career diplomat was Ghana's High Commissioner to Australia, with concurrent accreditation to New Zealand, Fiji, Papua New Guinea and other countries in the Pacific region. She was appointed by former President John Mahama, and commissioned in July 2014 together with 11 other ambassadors and high commissioners. On 20 August, 2014, she presented her credentials to Governor-General Sir Peter Cosgrove AK MC (Retd).
Mercy Debrah-Karikari served from 2004 to 2007 as the Director of the Office of the Minister of Foreign Affairs where she was responsible, among others, for the administration and management of the offices of the Minister and Deputy Minister. She subsequently worked at the Ghana Permanent Mission to the United Nations Office in Geneva as Minister and Deputy Permanent Representative from 2007 to 2011.
See Also: 12 Most Admired Female Ghanaian Celebrities – Buzz List
Ghana's first female Cabinet Secretary has definitely got a lot going for her. She is just a holistic personality in the sense that apart from her many accolades, educational background as well as positions held in the past, she is also a homemaker.  Mrs. Mercy is happily married to Dr. Paul Debrah-Karikari, a consultant Neuroradiologist. Her interests include sports, gospel music, movies and charity work.