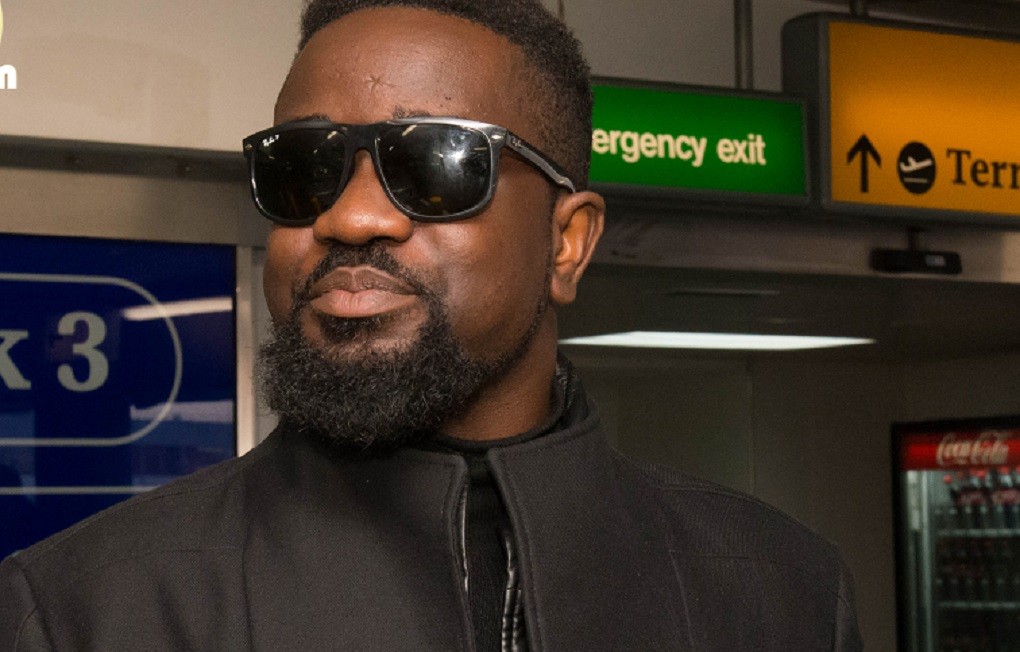 Sarkodie is a Ghanaian hip-hop and hiplife recording artist, the first Ghanaian to win the BET Award for Best International Act: Africa category; that was in 2012. He is admired and celebrated in Ghana as one of the leading music artists in the country.
Sarkodie is also considered as one of the major artists who brought the Azonto genre and dance back to life in Ghana and the world at large. Beyond these already known facts about the rapper, there are a handful of lesser-known facts about the phenomenal musician.
In this article, BuzzGhana brings you everything you need to know about Sarkodie. Enjoy your reading!
1. His Personal Life
Raised by a Single Mum
Sarkodie was born Michael Owusu Addo, in Tema, Ghana. It is quite a few Ghanaians who know his real name as Sarkodie seems to have swallowed it up to the extent that when you mention Michael Owusu Addo, virtually no fuss will be made like when Sarkodie is mentioned.
He is the fourth of five children of his single mum Emma Maame Aggrey. He started to rap in his childhood in the year 1992 at the age of four. From Achimota Preparatory School to Tema Methodist Day Senior High School, Sarkodie was known for his outstanding talent in music. He later proceeded to IPMC where he earned a degree in Graphic Designing.
The Age Puzzle
Sark is said to have been born on the 10th of July 1988. However, the artist has on several occasions stated that the public claim about his age is wrong. Meanwhile, the rapper has always dismissed questions about his actual age, insisting it is the one thing he's decided to keep to himself.
Relationship and Family
Sarkodie has a long time girlfriend, his baby mama – Tracy. The rapper started dating her right before he stormed the music industry. They both have a cute daughter named Adalyn, and everyone is expecting them to tie the knots soon.
Sarkodie Never Tastes Alcohol/Tobacco
This may be difficult to believe but, it is a fact if we are to believe that rapper's claim. He once said:
I've never smoked or drank alcohol before. Unfortunately, it is a general belief that anyone who is vibrant on stage or… in the entertainment industry is… doing drugs. But I beg to differ and stand to be counted out as an exception.
B. Public Life
He is a Brand Ambassador for Breastfeeding
Sarkodie was unveiled as the ambassador of breastfeeding in Ghana in 2014. Other brands the rapper has represented include Samsung Mobile, Fanmilk Ghana, and Tigo TeleCommunications Ghana.
He Owns Sark Clothing Line
Sarkodie owns Sarks Collection, a clothing brand which was launched on April 27, 2013. The clothing line deals on wears and accessories for men, women, and children. The brand was worn by former Chelsea star, Malouda. Ranked in Forbes' Top 10 Richest African Musicians for 2017, Sarkodie remains one of the richest musicians in the continent.
Social Media Fame and Followership
Sarkodie is one of the most famous and followed African musicians on social media.
In 2015, he topped the list of Most Influential Musicians on Social Media. The following year 2016, he became the first Ghanaian musician to hit one million followers on Instagram. The rapper also won the Best Subscribed YouTube Channel Award in Ghana that same year.
Humanitarian Work
On July 13, 2013, Sarkodie launched Sarkodie Foundation which is tasked with the mission of supporting underprivileged children. He also made donations of items worth thousands of Ghana cedis to the Royal Seed Home Orphanage in Kasoa.
On December 25, 2014, The Sarkodie Foundation embarked on a feeddakids campaign in Tema, where they provided thousands of kids with eight sacks of rice, yogurt and beverage cans. They also gave away school bags, water bottles, hats and other items.
Ghanaian teen rapper Awal also confessed to benefiting from Sarkodie's philanthropy. These are, however, just a few instances out of the numerous humanitarian contributions the rapper has made to the society.
C. Sarkodie's Music Career
How It All Started
Sarkodie made his breakthrough in Ghana music through his clever, quick and freestyle rapping which he does in a native language (Twi). He started pursuing his dream in music through off-hand rap show on Adom 106.3 FM named Kasahare Level hosted by Duncan Williams. Gradually, he took himself to the top emerging as the best rapper in Tema. It was through this show that he met his manager who was then the host of the rap show. It was also there that he was noticed by one of the finest individuals in Ghana music, Edward Nana Poku Osei, also known as Hammer, and other popular musicians like Edem and Castro.
Hammer then helped the trio to release You Dey Craze. Even though Sarkodie was already known then, this track kept his name on the lips of Ghanaian youths until he released his first hit track Baby. The track which featured Mugeez of the R2bees made Sarkodie a household name in Ghana before his debut album. Sarkodie is now making waves with both Twi and English raps and songs.
His family Influenced His Career and Stage Name
Sarkodie's family has always been a musical family – his mother is a singer, along with his little brother. His dad too is a strong fan and admirer of Michael Jackson and that was exactly what inspired his birth name, Michael. The rapper strongly believes that there is a link between his real name, Michael; his stage name, Sarkodie and his success in the entertainment industry. He also revealed that his father had two wealthy friends who go by the name 'Sarkodie'. He, therefore, equaled the name to wealth.
He's Also known as Obidi Pon Bidi
Aside from Sarkodie, Michael also goes by the nickname, Obidi Pon Bidi.
He once had his stage name inscribed on floor tiles at the 2014 BET Awards gala venue.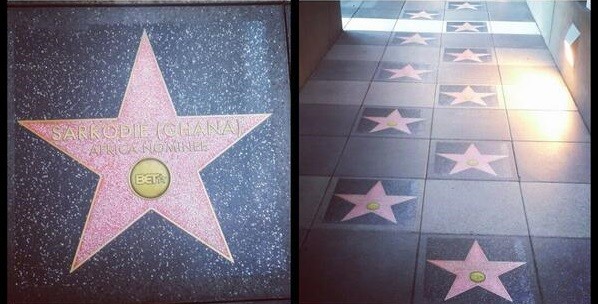 Illuminati Rumors
Sarkodie has been severally accused of being a member of the secret society known as Illuminati. The rumors were inspired by some controversial display of the Illuminati signs and symbols in his music. Some of the typical examples include his performance at the Apollo Theatre in New York where he used slides reflecting the "all seeing eye" symbol of the popular occultic group. The rumors started in December 2011 when he released the video of his song Saa Okodie No which allegedly had some satanic connotations.
In a bid to dismiss the already heated rumors in the media space, he recorded the song Illuminati and subsequently released its video in August 2013, with a part of the lyrics reading – 'you believe in juju, I believe in power.'
All the same, he has continued this trend of stirring up Illuminati rumors. In January 2015, he again used slides of the all-seeing eyes in the video of his hit song, Revenge Of The Spartans.

Albums, Awards, and  Nominations 
Sarkodie currently has three award-winning albums to his credit. They are Rapperholic (2012), Sarkology (2014) and Mary (2015). He is set to release his fourth album Highest on Friday, September 8, 2017.
Sarkodie won the following awards at the 2010 Ghana Music Awards: Artist of the year, Discovery of the year, Hip-hop/hiplife artist of the year, Best Rapper of the year and Album of the Year (Makye). He also won the Best Collaboration of the Year for Lay Away (feat. Sway from the UK) at the Sound City Music Video Awards (Nigeria) and Best Editing Video at 4syte TV Music Video Awards the same year.
In 2011, he won the Best Hip-Hop Video, Best Editing Video, Best Collaborating Video at the 4syte TV Music Video Awards.

In 2012, the rapper was honored with the Artiste of the Year, Most Popular Song of the year (U Go Kill Me), and Best Rapper of The Year awards at the Vodafone Ghana Music Awards event.
The same year, he also grabbed the very prestigious BET Awards for Best International Act – Africa, Headies Award for African Artiste of the Year, an Award for Achievement in Music at the National Youth Achievers Award event, and the 4syte TV Music Video Awards for Best Hip-Life Video.

Others include:
2013
4syte TV Music Video Awards for the Best directed music video, Most popular video, the Best hip-hop video, Best storyline video, and the Caribbean American African Nations Music Awards for Best West African Act.
2014
Ghana Music Awards Hip-life/Hip-hop Artist of the year, Best Rapper of the year, Album of the year, Hip-hop song of the year, African Muzik Awards Magazine's Best Rap Act, 4syte TV Music Video Awards for Best Hip-Life Video and Most Influential Artiste, MTV Africa Music Awards for Best Hip-Hop, the Independent Music Awards for Rap/Hip-Hop Song of the Year, The Headies African Artiste of the Year, and Ben TV Awards African Artiste of the Year.
2016
Legends Awards Artiste of the Year
D. Trivia
Favorite Meal and TV Show
Sarkodie's favorite meal is Rice and Egg Stew. And, his most preferred T.V show is Keeping up with the Kardashians.
Also See: The Favorite Meals of Popular Ghanaian Celebs
His Choice of Ladies
Sarkodie once revealed in an interview that he is easily attracted to women wearing glasses or shades. He emphasized his attraction to them, saying he sees them as serious-minded people who boldly go for whatever they want.