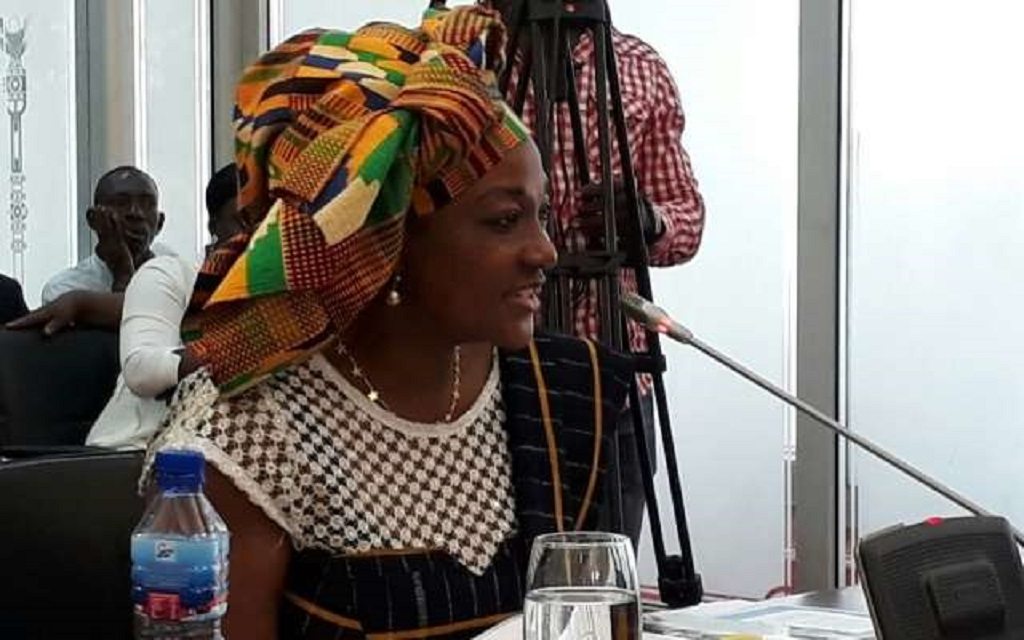 A lot of things seem to have gone wrong with the Otiko Djaba vetting. Her appearance at the Parliament vetting session has raised a lot of issues that has got many people talking…
Gender, Children and Social Protection Minister-designate, Miss Otiko Afisa Djaba, who is also the NPP National Women's Organizer, has been on the lips, posts, tweets and what have you of many Ghanaians since her appearance before the Parliament Appointment Committee responsible for vetting President Akufo-Addo's ministerial nominees.
Miss Djaba faced the parliamentary vetting committee on Monday, 30th January 2017. However, a lot of things seem to have gone wrong with the way she presented herself during the vetting and we really want to talk about them.
Most Controversial Moments of Otiko Djaba's Vetting
"My words weren't insulting, they were descriptive"
Madam Djaba in the course of her vetting was confronted because of the various 'unsavory' and 'unpalatable' comments she made against former president Mahama ahead of the 2017 elections. She was asked to apologize. But instead of the required apology, she justified her statements in which she described Mahama on different occasions as "extremely wicked", "evil", "violent", "an embarrassment to Northerners", and "having a devil's heart". She sealed her justification, saying: "I don't owe him [Mahama] or you [Alhassan Suhuyuni who raised the matter] any apology!"
The Minority Leader, Haruna Iddrisu who took up from where Alhassan stopped was bent on seeing Madam Djaba retract her comments but what he got from her was: "Are you saying we cannot criticize in this country?" When Haruna asked if her right to speak is tantamount to a right to insult, Djaba asserted that she only used descriptive and not insulting words to criticize the former president.
"I only called for Investigation of Agyapong's Sex-for-job Allegation"
On the issue of her stand on the Ken Agyapong vs Charlotte Osei palaver; despite the efforts of some committee members to get her into accepting claims that she supported the Assin Central MP in saying that the EC boss exchanged sex for her position, Otiko Djaba remained undaunted.
After the two members of the Committee who raised the issue have stressed themselves with highlighting instances that presented her as being supportive of Agyapong's stance, she maintained her stand of only calling for an investigation, and nothing more.
Babies with sharp teeth should be gotten rid of
The North Tongu MP asked the minister-designate how she intends to go about "sanitizing" Ghana's media and grow role models for children as it concerns the use of language.
In reply, Afisa Djaba specified that she would ensure there are no "babies with sharp teeth" in the media fraternity. The nominee's response was followed up by a question from the Chairman of the Committee, Joe Osei-Owusu, who asked her to explain the meaning of her answer. To his, Madam Djaba stated emphatically; "…we must expunge them [babies with sharp teeth]".
Haruna Iddrissu who described her statement as "offensive" asked that she withdraws it and proceed. But oops, Otiko Djaba threw this at him: "whom have I offended?" The Chairman then intercepted by asking her to find another way to express exactly what she meant. Otiko then indicated that she would ensure the use of insults and intemperate language by the media is discouraged. A promise contradicting her own use of language, don't you think?
"No Human Being Should be a human Donkey"
On a more acceptable note, Madam Djaba pointed out how she is going to help the government eliminate the issue of head porters – a social menace that is rampant in Ghana and popularly known as Kayayei.
According to her, she is going to start from where former minister Nana Oye stopped by extending the compilation of the Kayayei database to all parts of the country and then establishing a welfare programme that will take care of them.
"My vision for these porters is not to reduce Kayayei but to eradicate it… No human being should be a human donkey," she said.
Otiko Djaba's Approval Pending
Following the controversial Otiko Djaba vetting, her appointment as Minister of Gender, Children and Social Protection, is yet to be approved by the parliament, the Minority MPs have rejected her and refused to give their approval. This is assumed to be so because of her refusal to take back the statements she made against former president Mahama.
Member of Parliament for Bodi constituency and a member of the Appointments Committee, Sampson Ahi made this disclosure while speaking on Kasapa 102.5 FM on Wednesday.
"There is a general consensus for us in the Minority not to support Otiko because of her posturing before the committee and her response to some questions that were asked her during vetting yesterday," stated Ahi.
More About Ms. Djaba
Otiko was born on 21st January 1962 to Henry Kojo Djaba and Rosalind Sheita Bawa at Koforidua in the Eastern Region of Ghana. She is the second of twenty-one siblings.
She attended Tamale Secondary School now Tamale Senior High School. Djaba holds a diploma in Communications and marketing from an institution in the United Kingdom. She has also had training as a Computer Systems Analyst from a college in the United Kingdom.