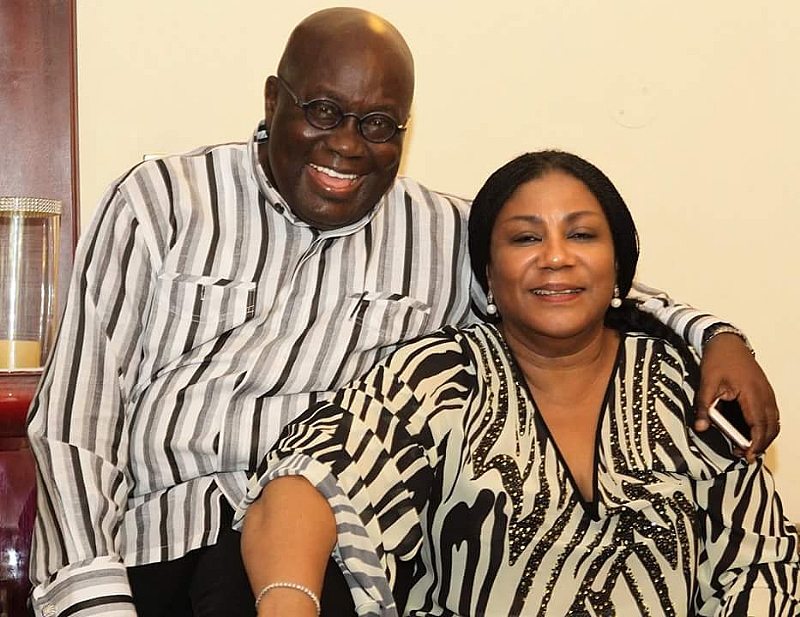 A special party was held at the President's residence in Nima Accra, to celebrate Rebecca Akufo-Addo's birthday…
Ghana's First Lady, Rebecca Akufo-Addo celebrated her birthday on Sunday, March 12, 2016. It was quite a remarkable day for the ever beautiful First Lady whose name was on the lips of most Ghanaians acknowledging her special day. From surprise packages to beautiful goodwill messages; it was indeed a blast for Mrs. Akufo-Addo who turned 66.
Akufo-Addo Celebrates First Lady On Her Birthday
Ghana's President, Nana Akufo-Addo sent out an open heart-warming message to her. In a brief message on his social media platforms, the President reaffirmed his love for his wife.
Similarly, the second Lady of the country, wife of the Vice President, Samira Bawumia who fondly refer to Mrs. Addo as "Aunty Becky", gushed over the first lady as she wished her a happy birthday.
See some of the tweets on Rebecca Akufo-Addo's Birthday:
Happy birthday to my beloved Rebecca pic.twitter.com/kvX3LF61dU

— Nana Akufo-Addo (@NAkufoAddo) March 12, 2017
Happy birthday to our First Lady Auntie Becky. I appreciate the unique friendship we share and the counsel you have given me over the years. pic.twitter.com/im28o9W9DS

— Samira Bawumia (@SBawumia) March 12, 2017
GIRL TALK Surprises First Lady
A special party was held at the President's residence in Nima, Accra, to celebrate Rebecca Akufo-Addo's birthday. Ghana's President and his wife, together with some top officials of his government were all present at the event where Mrs. Rebecca received tons of surprises from friends and well-wishers.
One of the surprises was the one from Girl Talk. The group presented the first lady with a special cake from Oriental Ghana and boxes of Vitamilk from Girl Talk Birthday hangout sponsor. Girl Talk was led by award-winning actress, Nana Ama McBrown who presented the First Lady with the gifts.
Read Also: Who Is Cecilia Anim: Facts About The Ghanaian Lady Who Won England's Prestigious CBE Award
In the spirit of the celebrations, we bring you some interesting facts about Ghana's First Lady, Rebecca Akufo-Addo.
Born is Osu, Rebecca Akufo-Addo is the daughter of Judge Jacob Hackenburg Griffiths-Randolph and his wife Frances Philippina. She was born in 1951 as Rebecca Naa Okaikor. Rebecca has six siblings and is the third of her parents' seven children.
Her father was a Speaker of Parliament in the Third Republic of Hilla Limann and, her mother, even though she came from Ningo, is said to be of German heritage.
She schooled at Wesley Grammer School
Mrs. Rebecca Akufo-Addo is an old student of the famous Wesley Grammar School in Dansoman, Accra. Before she joined Wesley she attended Achimota Primary School. For higher education, she went to Government Secretarial School where she was trained to become a professional secretary.
As a professional secretary, Mrs. Akufo-Addo worked with Merchant Bank. She later left Ghana for the UK and advanced in career, qualifying as a legal secretary. For her skills, multinational companies in the UK like Clifford Chance and Ashurst Morris Crisp had to welcome her into their team.
Now, she owns a charity organization known as the Akufo-Addo Foundation. While the foundation focuses on child education and health, the first lady has through it, established a GHC 10 million worth Mother and Baby's Unit (MBU) located at the Komfo Anokye Teaching Hospital (KATH). Rebecca personally led the move to raise funds for the project. The first lady is also a key sponsor of Infanta Malaria, a charity that aims to eradicate the disease among infants.
When an angel walks into a man's life, it is hard for the man not to be happy; such is the case for President Addo. The two have stayed married for over 20 years now and are stronger than ever. No wonder the consistent smiles on the president's face when she is around him.
One can only imagine how challenging it is for a woman to accept children from another woman as hers. Mrs. Rebecca got married to President Nana Addo after his second wife passed on – meaning that Nana Addo's children are not biologically hers. However, the first lady treats and loves the President's children as though they are hers. Their children are five and they include Gyankroma, Valerie, Adrina, Yeboakua, and Edwina.
She is a Strong Supporter of Women's Rights
Mrs. Rebecca Akufo-Addo is a known advocate of women's rights. She brings together various female leaders of the ruling party to rally and campaign for women's rights across the country.
She has a foundation that takes care of women and children. Ahead of the polls in 2016, she distributed several items to sick and deprived mothers in various hospitals across the country.
Favorite Dish and Hobbies
The first lady has an unexplainable appetite for fish and Kenkey, a staple food made from fermented maize. Most people don't start decorating interior at their leisure times like the first lady. Her leisure activities include reading, interior decoration, and nurturing of flowers.