Remarkable growth has been recorded in Ghana's economy of recent times. This positive turn around has really brought about some significant development in Ghana's society, especially in the area of infrastructure. New gigantic structures are being put in place which one could not help admiring. If you've been away from Ghana for some years now, on coming back, you will certainly be left breathless by what is going to confront your view. Most of these masterpieces are found in the capital city of Ghana, Accra.
Here are the Top 10 Spectacular Buildings of Accra You Need To See:
10. Netherlands Embassy
Just like many foreign embassies in Ghana, Netherlands Embassy is where you have to be when you want to obtain a visa to the country. But the building located at Liberation Road, Accra doesn't look like every other embassy. The edifice has many features that will put you in the mood of tourism. From its green space and architectural style to its friendly environment and natural lighting.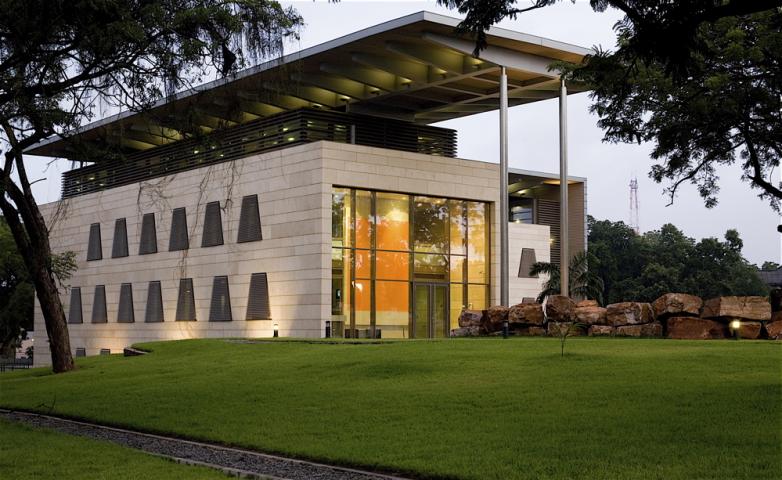 9. Flagstaff House
The Flagstaff house is Ghana's seat of government. It was commissioned in 2007 to replace the Osu Castle and as expected, the building is living up to its hype as one of the most imposing buildings in the capital. With a rich history, being the seat of government during the 1st Republic, the Flagstaff House, the building makes a statement when it comes to modern standards, space, design, friendliness and more.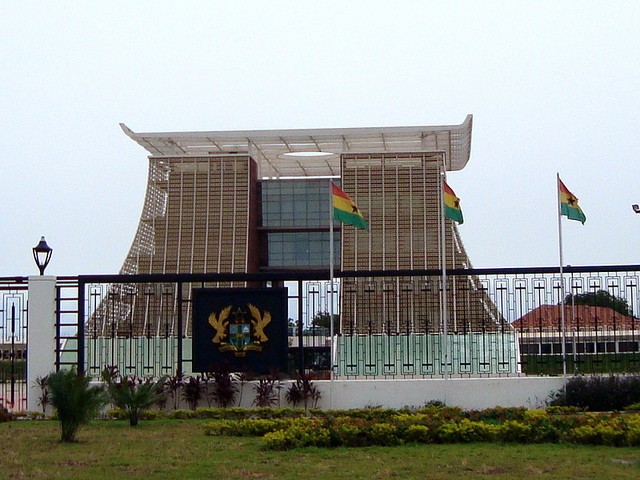 8. Ministry of Foreign Affairs Building, Accra
This building is a multipurpose five-story building complex that houses the Ministry of Foreign Affairs and Regional Integration. It boasts of 141 offices, a library, a canteen, a 300-capacity conference room and other mini-conference halls. There are other facilities and to a very large extent, it serves its purpose of being permanent office complex for the ministry. The builidng of the structure costs about 13,650 dollars and you can tell it is worth the money spent.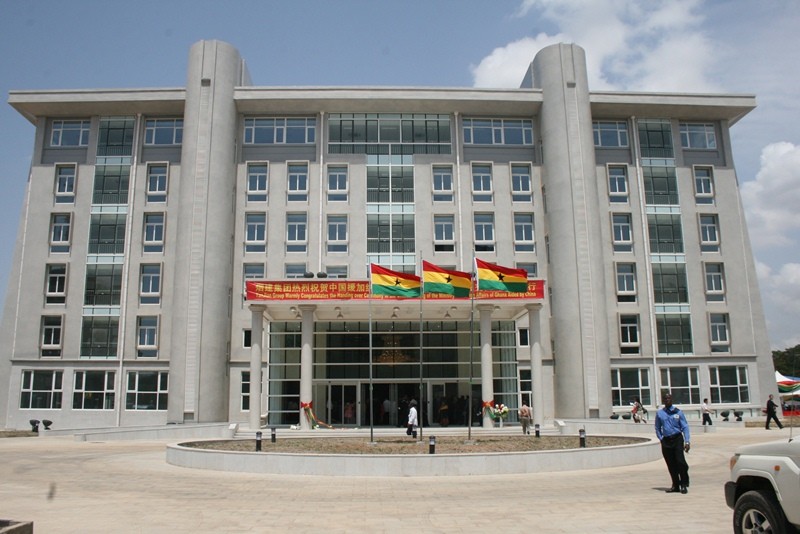 7. West Hills Mall
This mall is the biggest and first of its kind in Africa. The construction alone is worth $93 million. The huge shopping center measuring 27 700m²  has banks, cinema complex, restaurants and several different local and international products. It is located at Dukonah close to Weija – Cape Coast Highway in the Greater Accra Region of Ghana.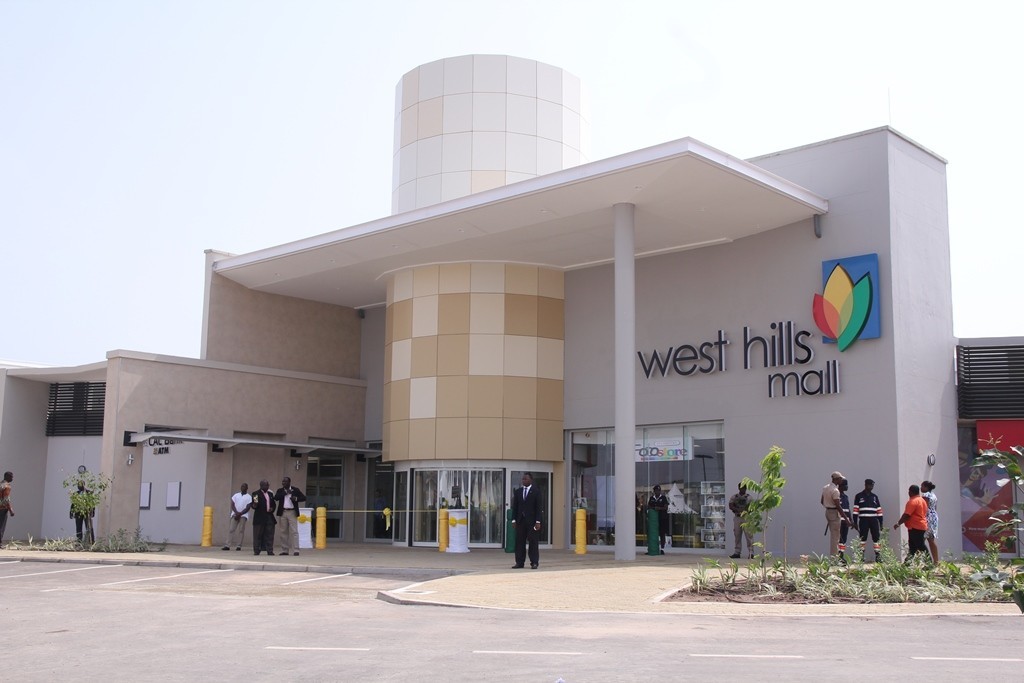 6. World Bank Building, Accra
The World Bank office in Accra is really a masterpiece. The building offers enough space that accommodates not just the World Bank staff but also IFC.  It sits on Independence Ave inside the Ridge suburb of Accra. Other remarkable elements include its stunning driveway and parking lot with some details to guide you through the parking orderliness. The simplicity in its design is also an integral feature that you might know the picture here wouldn't do justice to the edifice. It's better to be viewed live.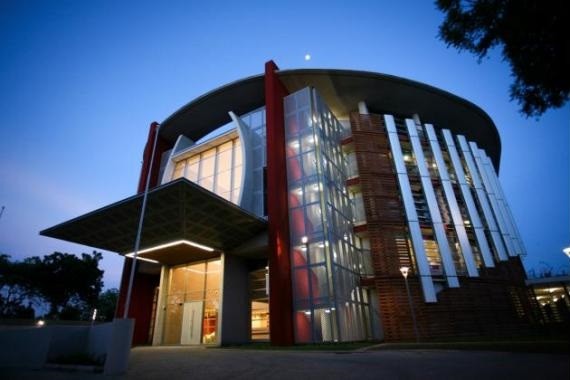 5. Le Must
You may be wondering why such a building as that of Le Must should make it to this list. Unlike others on this list, Le Must is a rather small property in comparison. However, its thatched roof and cottage look endear it to many diners in Accra and thus qualifies it to be one of the top ten magnificent buildings in Accra. Also its unique shape and welcoming atmosphere make dining all the more pleasurable.
4. Movenpick Ambassador Hotel
Movenpick Ambassador is set on 6 hectares of land with lush green exterior that is refreshing. The interior is as well beautiful with comfortable rooms some with balconies, kitchen, dining rooms and more. Its decor is magical and simple.
Read Also: 20 Most Beautiful Ghana Pictures You've Never Seen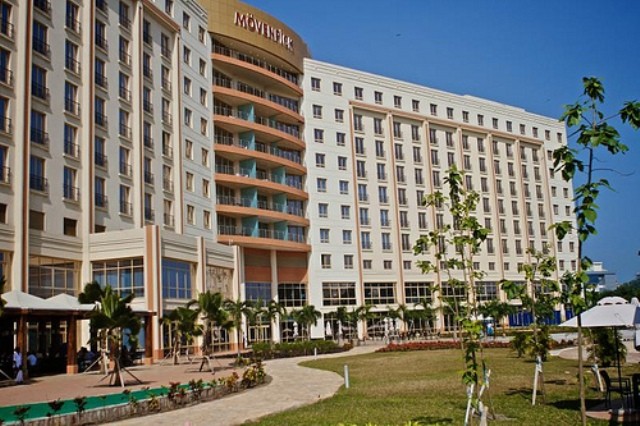 3. Stanbic Heights, Airport city, Accra
This building is reckoned as Ghana's first A-grade property for its unique design. The architects also introduced some new elements to the construction using energy-efficient construction materials and space-saving techniques. Other fun features besides its design include the hotel's space which is a total of 17,000 m2, the roofing, and the overall aesthesis. The parking lot also makes Stanbic Heights one of the most spectacular spots in Ghana.
2. SSNIT Emporium, Airport City, Accra
This is a new age commercial building with unique architecture set at the Airport City. For its sufficient space with a total space of 15, 482 square meters, the edifice is arguably the biggest commercial office space in Accra. The ultra-modern building incorporates two blocks including main building and the tower. What is more eye-catching about the structure is the unique design of the tower featuring an intricate glass detail.
1. Villagio
This is actually one of the tallest buildings in Ghana and it comprises of not less than 22 floors. The luxurious apartments overlook the Tetteh Quarshie Interchange and can be seen from as far as Dzorwulu Junction on the N1 Highway. Vista, Aqua, and Alto, as the apartments are known, has great sport convenience shops, restaurants, and amazing rooftops with swimming pools to entertain guests.