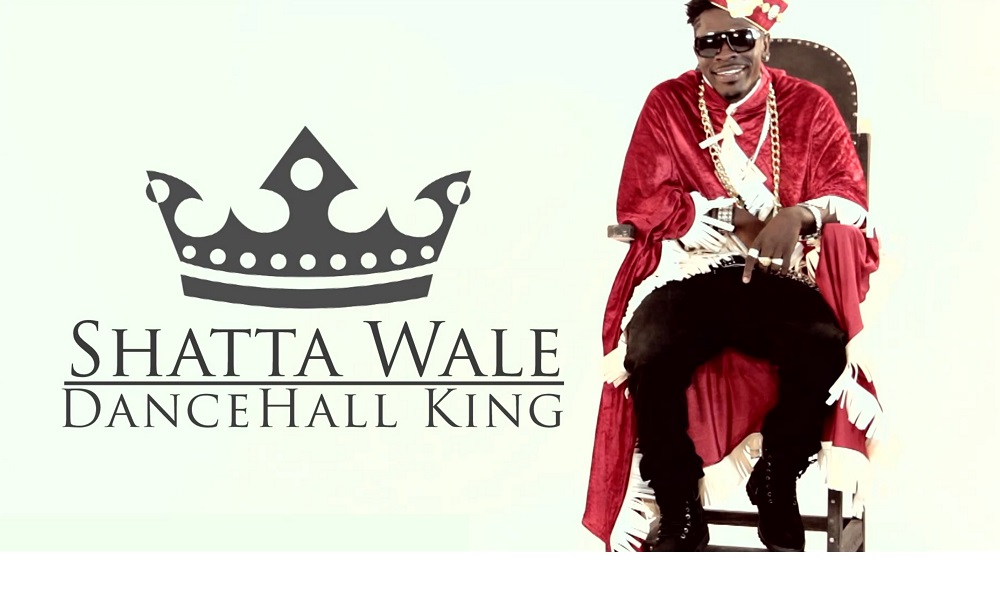 Shatta Wale is such a household name in Ghana that even toddlers know a thing or two about him. Almost everyone knows him to be the popular and controversial reggae-dancehall musician who proclaimed himself Ghana's Dancehall King with the release of his hit song, 'Dancehall King'.
But then, it's possible there are a handful of things about this popular musician which most people are not aware of. Read on to learn more about Shatta Wale, the Dancehall King of Ghana.
Early Years of Shatta Wale
The Dancehall King did not grow up with a silver spoon but he had enough motivation that made him who he is today. Shatta Wale was born Charles Nii Armah Mensah (Jnr.) on October 17, 1984. He attended Seven Great Princess Academy and then continued at Winneba Secondary School. During his days at Winneba, he was popularly known as 'DOGGY', a nickname he gave himself because of his love for reggae and dancehall artiste Yoggy Doggy at the time.
Music was flowing in his blood way back in his teenage years, he was a drummer during his days in the college. His father encouraged his dream to become a musician as he gave him full support. According to Wale, he recorded a song during his school days and showed his father who confirmed it was good. But being brought up in a family that valued education, his dad insisted he complete his education first. It was during this period that he decided to make music a lifetime career after school.
Music Career – From Doggy to Bandana
Shatta Wale changed his name from Doggy to Bandana after senior high school. He once revealed in an interview what led to the change of name.
"When I was growing up, the best dancehall artiste in Ghana was Yoggy Doggy. I was always around him and wanted to be like him. So I think when I went to Secondary School, that was the only name I could choose to make my name in school… I was recording with my friends when the owner of the studio said I have a good voice that he feels he can help me… So when I got the deal, I thought of changing my name. And you know I like this bandana thing. I was putting them on my wrist and forehead so something told me to use it. It sounds nice, catchy…," he explained.
He then released the hit track Bandana from Ghana in 2004. The song made tremendous sales in the Ghanaian music industry. After this, Shatta Wale, still known as Bandana, went off the music stage and reappeared in 2013 as Shatta Wale. He then released his greatest hit song, Dancehall King.
It was in that same year that his big break came. This was after the 2013 VGMA awards when he threw lyrical insults to VGMA through a song titled Me Need No Awards. He claimed they denied him the Dancehall artist of the year giving it to an undeserving female Dancehall artist – Kaakie. Even though the song had vulgar lyrics, it was so much celebrated by the media. It was this major event coupled with his hit-song Dancehall King that mainly pushed Shatta Wale to a national limelight.
From Bandana to Shatta Wale
As earlier mentioned, before changing his name to Shatta Wale, he went into 'oblivion' for so long that he was almost forgotten by fans.
The dancehall king pointed out in an interview that he decided to rebrand to Shatta Wale after consulting God. He also disclosed the meaning of this latest stage name. Shatta he said, is a Jamaican slang for 'Gangster' and Wale is an acronym for World Alerted Lyrical Entertainer. Therefore, the name Shatta Wale means a Gangster who is a World Alerted Lyrical Entertainer.
It was after this that he made the case with VGMA bordering on the dancehall award.
Shatta Movement and Charity
Shatta Wale is the leader, chief executive officer (CEO) and founder of the Shatta Movement. He has used the Shatta Movement as a platform to reach out to his fans as well as to help the less privileged. We may not be able to recount all of Shatta Wale's charity works but the ones that hit the records include the following listed below:
During Christmas festivities of 2014, as many spent time with family and friends, Shatta Wale seized the opportunity to pay a visit to Ghana's biggest hospital, the Korle-Bu Teaching Hospital where he donated items worth thousands of Ghanaian cedis to the Children's Block.
Shatta Wale, Light A Million Lives, and Quallo's Production along with Gasmilla, Keche, Episode and Dada Hafco made donations to the victims of the twin disasters (flood and fire) that occurred in Accra on 3 June 2015 in which over a hundred people lost their lives. The group brought along Food, Water, Antiseptic Liquid, Antiseptic Soap, Wipes, Sanitizers, Clothes and a whole lot of items to support the victims.
As part of his charity concerns, on February 8, 2016, Shatta Wale donated some items to the Police Hospital in Accra. These items included 3 LED TV, Wheel Chairs, Beverages, Detergents, and many other items. He also made an undisclosed cash donation to save the life of a young girl and also to help with general administrative work at the government-owned establishment.
Awards and Other Major Achievements
Shatta Wale has made remarkable achievements since his emergence in the Music industry. He has also bagged numerous awards both in Ghana, across the continent and the entire globe. Below are some of his most significant achievements and awards:
He won Artiste of the Year at the 2014 edition of the Ghana Music Awards.
In May 2014, British Newspaper, The Guardian, reported that the five must listen to tracks from around the world includes Shatta Wale's song 'Wine Ya Waist' featuring Davido from Nigeria. In the same year, his song 'You Can't Touch Me' was widely used for the Dancers Against Racism Campaign Worldwide.
Also in 2014, Shatta won Best New Entertainer in the International Reggae and World Music Awards.
During the 2014 Nigerian Entertainment Awards, the dancehall king won the African Artiste of the Year.
Shatta Wale's hard work in 2014 got him nominated for the maiden GN Bank Awards

 

as the People's Choice Male Musician of the year.
In 2015, he was named the 38th Most Influential Ghanaian by E-TV Ghana in their annual survey of influential people in Ghana.
Shatta Wale's songs Dancehall King and Kakai won the DJ's Song of the Year in the Ghana DJ Awards in 2014 and 2016 respectively.
Shatta Wale is seen as Ghana's dancehall lord as he is believed to be the one who resurrected dancehall in Ghana.
Wale demonstrated that he's also got some talent in acting when he featured in Shattered Lives with Bisa Kdei and Majid Michel.
It is worthy to note that Shatta Wale was disqualified from the 2016 Ghana Music Awards because of the lingering conflict between him and the organizers of the Vodafone Ghana Music Awards (VGMA).
Personal Life and Relationship of the Dancehall King
Wale is traditionally married to his girlfriend Michelle aka Shatta Michy. Shatta Mitchy has on several occasions declared how good the Dancehall King is. They have two adorable kids. Wale once said he will finally settle down and claim the full responsibility of family life when he turns 72!
This bloke is one Ghanaian musician that is loved and hated with equal measure. His fame is simultaneously drawn from both his vices and virtues, achievements and controversies.