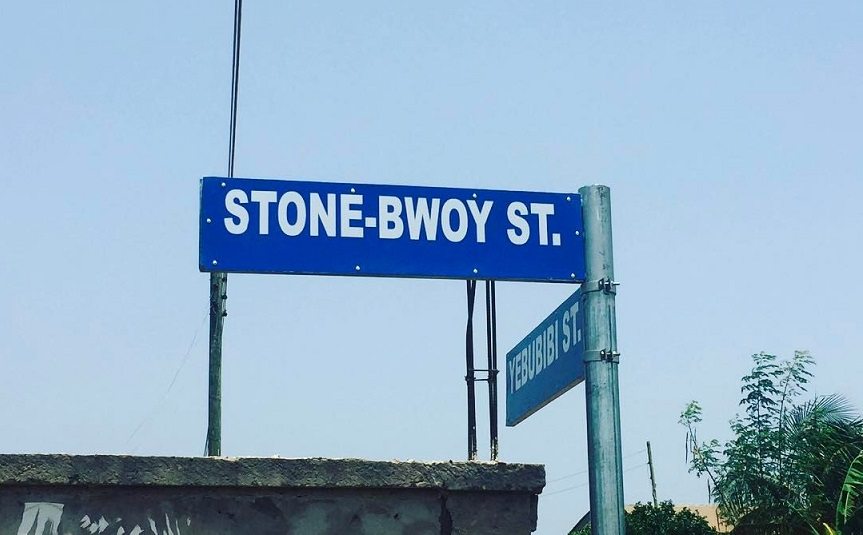 A street has been named in Ashaiman (Greater Accra Region of Ghana) after popular Ghanaian Reggae and Dancehall musician, Livingstone Etse Satekia, popularly known in Showbiz as Stonebwoy. The Stone-Bwoy street really comes as a great honor to the Ashaiman born artiste, especially at this time he returned home after being away for a long time.
The musician first saw the newly commissioned Stone-Bwoy street when he returned from Jamaica, where he has been for some months on a series of concerts. The Go Higher hit-maker, who felt much elevated with the move by people of his hometown, took to his official Facebook page to share his joy and gratitude with fans.
Posting a photo of the signpost bearing the name – Stone-Bwoy Street – the 2015 BET Winner & VGMA Artiste of the Year wrote: "Just As I Touched Down. I represented for the HOOD. And the HOOD represent For Me".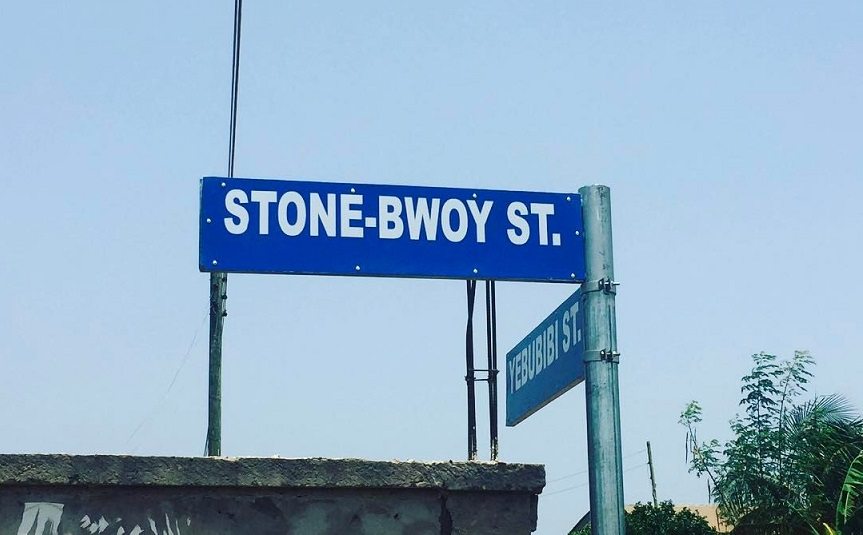 For receiving this rare homage at this early stage of his lifetime and career, we believe that Stonebwoy must have touched the lives of the Ashaimans in such a way that inspired them to honor him this way.
Here are facts you need to know about the musician.
1. Biography
The respected reggae and dancehall artist was born in Ashaiman, Ghana in 1988. He is said to be of Alakple-Anloga origin. Stonebwoy studied at Methodist Day Secondary School and later, the University of Professional Studies where he majored in Marketing. He was awarded a degree in Marketing in 2013 upon the completion of his studies.
2. Career and Rise to Fame
Livingstone Etse Satekia, aka Stonebwoy, started his career as an underground rapper in 2009. It was his performances in the showbiz that caught the attention of Samini, who later signed him to his High-Grade Family record label. The rapper worked with Samini until 2012, when he created his own record label, Burniton Music. It was also in the same year that he released his debut single titled Climax in 2012, which was followed by his first studio album, Grade 1 Album. The album was followed by another one in 2014 titled: Necessary Evil, which subsequently received 3 Ghana Music Awards from 6 nominations. Stonebwoy dropped his third studio album captioned Epistles of Mama in 2017.
His little time in the entertainment industry has seen him walk home with several prestigious awards. In 2017, he won the Best Reggae/Dancehall Artist at the Ghana Music Honours. In 2016, he won the Best International Act: Africa accolade at the 2015 BET Awards, becoming the second Ghanaian artist to win the envious award. Livingstone Etse Satekia was nominated for the same award in 2016 and was also shortlisted for the 2017 Vodafone Ghana Music Awards (VGMAs).
The singer has also collaborated with notable stars such as rapper Sarkodie, Stay Jay, Danny Limpo, Sean Paul, Kwaw Kese, Kranium Davido, Becca, Samini, and many more.
3. Personal Life
This bloke may not look it but he's actually someone's husband and a caring father to Catherine-Jidula Tumin Satekla, the beautiful angel he had with his wife, Louisa Ansong. Livingstone took Louisa to the altar on June 16, 2017, while their daughter arrived in December 2017.
4. He Owns A Foundation
In a bid to give back to the society, Stonebwoy established a foundation called the Livingstone Foundation. The organization has been very helpful in Ghana. In January 2017, it announced a sponsorship programme for five students of the Tema Methodist Day Senior High School, which is also the rapper's alma mater.
5. International Tours
Stonebwoy had his first world tour in 2014. The musical concert which held in the European zone saw him perform in Austria, Italy, Germany, and Spain. The rapper also had another tour in 2016 in Canada-America cities, where he performed specifically in Ohio, Ontario, Philadephia, and New York City. His musical presence was also felt in the following Australian cities – Brisbane, Sidney, Melbourne, and Perth. The rapper's most recent tour kicked off in the last quarter of 2017 when he thrilled fans in Sweden, Finland, and Denmark.
Three Strong Reasons He Deserves The Honour
1. He Was Born and Raised in Ashaiman
Taking a look at the rapper's current status, one may think Stonebwoy was born with a silver spoon. But that's far from the truth, the talented rapper was actually born and raised in his native land, Ashaiman, in the Greater Accra region of Ghana. The onset of his music career dates back to his early school days at the Methodist Day Secondary School, the same school attended by popular Ghanaian rapper, Sarkodie.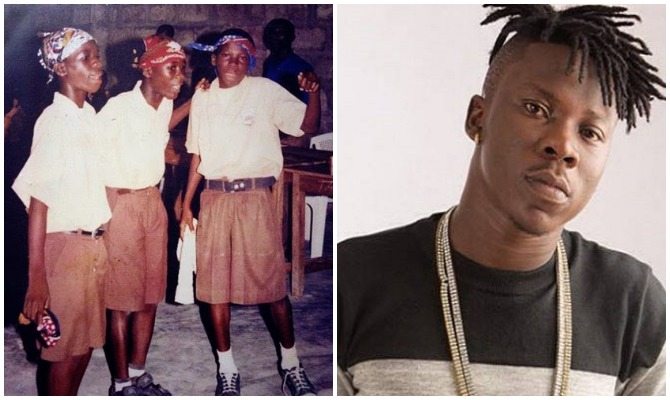 The photo above shows Stonebwoy with his classmates in school showing off their musical talents. Judging by his looks, it's apparent his love for music dates back to his early years.
2. His Love For His HomeTown
Just as he stated in his Facebook post, Stonebwoy has always been very loud and open about his love for Ashaiman and he doesn't shy away from singing about it. He staunchly represents Ashaiman in everything he does and it is only fair for him to be rewarded by his people.
Among several other activities, he often stages free concerts as a way of showing appreciation to the town that raised him.
3. He Is Unique and Talented
Stonebwoy is best known for his classic jams, which are usually different from the traditional Afropop songs currently trending in Ghana and Africa at large. The entertainer is popular for blending the three music genres – afro-pop, reggae, and dancehall all in one, resulting to what is known as Afro Dancehall or reggae Dancehall.
See Also: Ko Kinaata Bio: 10 Lesser Known Facts About the Susuka Singer
He once asserted that what he brings to the Ghana music scene is different and unique. Certainly, the Ashaimans must have seen this difference and uniqueness in the musician to confer such an honor on him. For what's worth, the androgynous Ghanaian singer, Noella Wiyaala also had a street named after her in her hometown, Sissala, in the Wa East District of the Upper West Region.