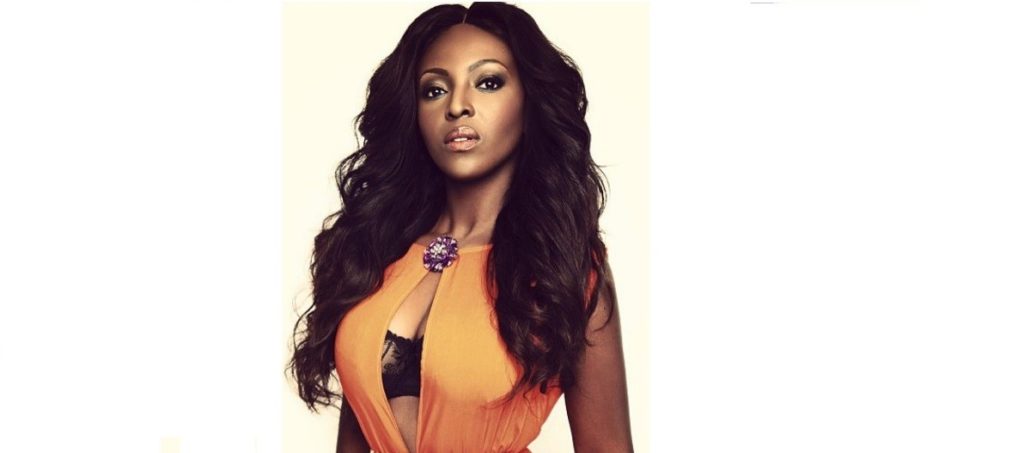 Yvonne Okoro is a Ghanaian actress of Nigerian and Ghanaian descent. She is also known for her philanthropic work, particularly in the area of education. Yvonne has won several awards for her acting and humanitarian work, including Best Actress at the Ghana Movie Awards 2010 and four Africa Magic Viewers' Choice Award
The Ghanaian self-established actress Yvonne Okoro is a woman of all controversies. From walking around in a top that allegedly exposed her boobs in an obscene way to question marks regarding her relationship with Togolese and Tottenham Hotspurs striker, Emmanuel Adebayor, this celebrity superstar is always hitting the front pages.
She is undoubtedly beautiful, undeniable talented and enviably accomplished. She is never afraid of the limelight and has been involved in quite a few backlashes in the public as well as the media that all these only seem to make her stronger. In short, the character in her is so strong you would have to take her to the grave to kill it.
So, what's behind the scenes? Does her toughness find its way into her relationship matters? Here are all you need to know about Yvonne Okoro.
Summary of Yvonne Okoro's Biography
Full name: Chinyere Yvonne Okoro
Gender: Female
Date of birth: November 25, 1984
Birthplace: Accra, Ghana
Yvonne Okoro's Age: 38 Years Old

Ethnicity: African
Nationality: Ghanaian Nigerian
Zodiac Sign: Sagittarius
Sexual Orientation: Straight
Marital Status: Unmarried
Siblings: 2 sisters
Alma Mater: University of Ghana
Occupation: Actress
Years Active: 2002–present
Yvonne Okoro's Net worth: $300,000
Famous for: Her acting career
Yvonne Okoro's Instagram: yvonneokoro
Twitter: @yvonneokoro
Biography and Early Life
Born as Chinyere Yvonne Okoro, on November 6, 1984, Yvonne Okoro could as well call herself a dual citizen-of a Nigerian father and Ghanaian mother. Her family lived in Ghana nonetheless so she went to school in Ghana and learned her trade in Ghana. If her father came from Nigeria, surely she must have spent more time in Lagos.
The actress, model, and television personality has always been passionate about her talents since her very young age and to achieve her dreams, she attained her education first from Achimota Preparatory School in Accra, Ghana before moving to Lincoln Community School in Accra, Ghana for her first school leaving certificate. She then obtained a Bachelor of Arts Degree in English and Linguistics from the University of Ghana, Legon. Yvonne went as far as France (University De-Nantes) to work on Press Civilization, Drama and Marketing.
She is said to have shown glimpses of her acting capabilities as a young girl. As early as a preparatory school, the girl was already dazzling with confidence on the stage and this continued well into her days at Mfanstiman Girls High School. Her major role in the movie, "Beyonce" led to her major breakthrough in the world of movies. It further availed her better opportunities and appearances in more highly rated Nigerian and Ghanaian movies. Today, she is one of the highest paid actresses both in Ghana and in Nigeria.
Having acted in than 150 movies which include "Queen Lateefah", "Kiss and Tell", "The Return of Beyonce", "Single and Searching", "The President's Daughter", etc.,  Yvonne Okoro was honored in 2012 with a Distinguished Achievement Award at the Nigeria Excellence Awards.
Meet Her Family
Yvonne's family is such a large one. She is first in the basic family that is if you count mother, father, and their biological children. Even as a top renowned celebrity, Yvonne still lived with her very traditional conservative family with parents being strictly against their daughters living in separate houses while they are still unmarried. Yvonne has two adorable sisters who are barely seen. She is fond of her siblings who are as beautiful as she is.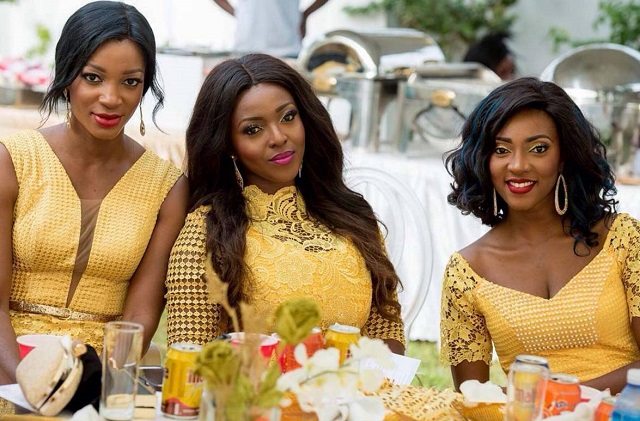 The names of her two siblings are Roseline Okoro and Elizabeth Okoro. She also has three brothers namely Kenneth, Martin, and Raymond Okoro. Her sister Roseline had at a time contested for Miss Ghana. Even though she was unable to win, it was alleged that Yvonne spent quite some money campaigning for her sister to win the contest inviting criticism from rival contestants and the general public. Not much is known about the careers of her sisters but it is believed that the beautiful ladies of the Okoro family are well in their respective careers.
Is Yvonne Okoro Married? 
Ghana is full of beauties, we all know that. It's a blessing to have Yvonne as one of them – never mind her nationality. She is such a role model to upcoming West African actresses. However, Yvonne isn't yet married. Although there are trailer loads of good-looking young men waiting to catch her attention, the award-winning actress explained that she is not easily drawn to a guy's looks.
Recently, it was rumored that the beautiful actress was set to get married to her Nigerian billionaire lover but in response to that, the actress clearly debunked the rumor, saying it's not true. She also claimed that she would not be dating or getting married to any man in her industry. "No, I can't. It's out of the question. It's part of my rules… " she said. She also reacted to the rumor about her relationship with the musician, Criss Waddle and footballers Stephen Appiah and Asamoah Gyan, saying the rumors are bound to happen since she's in the public eye. The award-winning actress went further to reveal that she has a strong crush on the American actor, Tom Hardy.
Other Facts You Should Know
She calls herself an African
Maybe that's why the multi-talented actress doesn't want to be drawn into the rationality argument. Instead of spending a few years sourcing her Ghanaian or Nigerian ancestry details, she has decided to simply call herself an African. She looks like one anyway, dark, womanly, and beautiful.
Yvonne Okoro Net Worth
having a net worth of about $300,000, it appears that Yvonne is able to put her earnings into the right places. She just opened a multimillion dollar company – Demasour Company Limited which deals in advertising, public relationship and media consultancy. She has the marketing degree which is a factor in the business savviness. Wow.
Yvonne will soon be dining with Philips
As long as you are doing well, the money will always come in. Who doesn't know Philips? Well, soon, Yvonne Okoro will start a TV show, 'Dining With Yvonne' and guess who is sponsoring the show? The "world acclaimed engineering and electronic company"- Philips!
Beyonce look alike?
Well, she played a role in a film titled 'Beyonce' – quite a few have been compared to stage queen Beyonce Knowles. The American superstar is known for her beauty and talent in singing and the thought of being compared to her alone is evidence of ability. Take a closer look at a few of her pictures… this Yvonne resembles Knowles in a way, doesn't she?