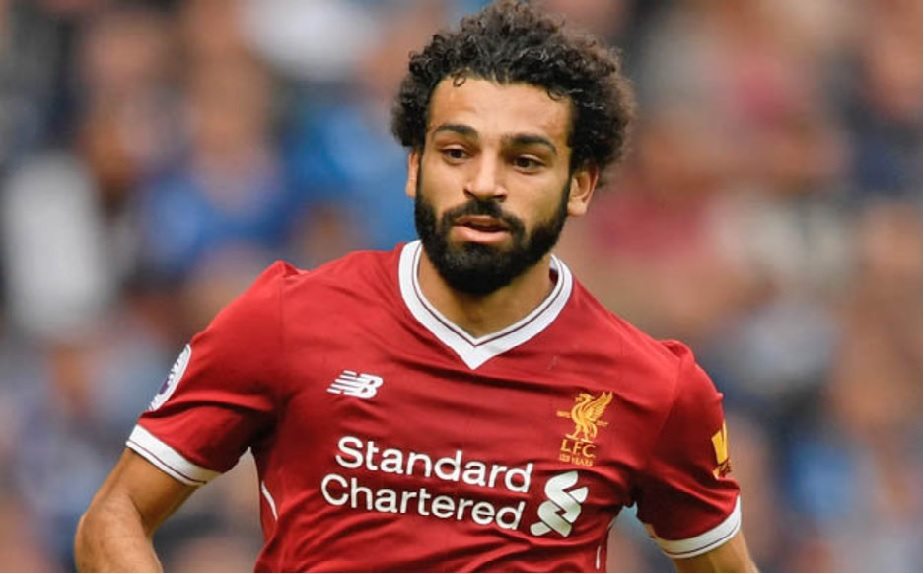 Egyptian Mohamed Salah has been voted BBC African Footballer of the Year for 2017. Salah triumphed over in-form Nigeria and Super Eagles star, Victor Moses, to take the 2017 BBC African Footballer of the Year Award.
Fans voted in record numbers to crown Mohamed Salah the winner from a five-man shortlist, with the current Premier League top-scorer selected in front of Gabon's Pierre-Emerick Aubameyang, Guinean and future Liverpool midfielder Naby Keita, current Liverpool team-mate Sadio Mane of Senegal and Nigeria's Victor Moses.
Other previous winners of the award include Yaya Touré (2015 and 2013), Yacine Brahimi (2014), Christopher Katongo (2012) and André Ayew (2011). Salah's name has been added to a list of soccer legends from the continent which includes Jay-Jay Okocha (Nigeria), Didier Drogba (Ivory Coast) and Michael Essien (Ghana).
Overjoyed Salah expressed his excitement over his latest feat when he spoke with BBC Sport. He said:
I am very happy to win this award, It's always a special feeling when you win something. You feel like you did a great year, so I'm very happy. I would also like to win it next year."
He also talked about his intentions to be the best Egyptian player ever and how he is working hard towards it.
Mohamed Salah's Career Brief
25-year-old Salah who joined Liverpool from AS Roma at the beginning of the season has enjoyed arguably, the most successful year of his illustrious career, playing in the final of the African Cup of Nations and helping the Pharaohs to qualify for their first Fifa World Cup since 1990.
He was named the club's player of the month in August and September. In the English Premier League, he leads the top scorer chat with 13 goals and boasts of five goals in this season's Champions League.
Salah has taken the Premier League by storm this season, in contrast to a less impressive spell in the division with Chelsea between 2014-15.
Mr. Salah represented Egypt in both 2011 FIFA U-20 World Cup and the 2012 Summer Olympics; with the Egypt U-20 team and Egypt U-23 team, scoring in all three of the team's group matches in the latter tournament and helping them to the quarter-finals.
He made his debut for the Egypt national football team in September 2011, in a 2-1 defeat by Sierra Leone.
Salah was the top scorer for Egypt with five goals during the 2018 FIFA World Cup qualification, including both goals in the decisive 2–1 victory over Congo, one of which was a penalty in the last minute to make the Pharaohs reach their first World Cup finals since 1990.
See Also: Top 10 Most Expensive Homes Of Footballers – An African Footballer's Home Tops the List
Other Facts To Know About Mohamed Salah
1. Salah has played in high profile leagues both on contract and loan.
2. The Swiss Super League, Basel quickly signed Salah on June 15, 2012, after the Port Said Stadium Disaster. He scored his first Europa League goal for Basel in the quarter-finals on 11 April 2013, in a game against Tottenham Hotspur and was a member of the Basel team that won the 2013 Uhrencup.
3. Mohamed Salah became the first Egyptian to be signed by Chelsea on January 23, 2014, on a fee reported to be around £11 million. He scored his first goal for the Stamford Bridge club against Arsenal after he entered the field as a substitute for Oscar – the match ended with a 6 – 0 win for Chelsea.
4. He made his first debut for the Roma on August 22, 2015, after signing with the club on a season loan for €5 million – with the option of making the deal permanent. But a complaint filed against Chelsea quoted breach of contract by allowing Salah to join the Roma on loan.
5. Nevertheless, he scored a total of 15 goals for the club in all competition, making him the top goal scorer, as well as the Player of the season. As agreed, Roma made the deal permanent on August 3, 2016, for a reported €15 million. Salah didn't fall short of expectations as he scored a hat-trick at the Stadio Olimpico on November 6 as Roma won 3 – 0 against Bologna.
6. He is nicknamed the Egyptian Messi for his technical skills, pace, position and direct playing style.
7. Salah has won the admiration of football fans as well as that of coach Jose Mourinho who upon signing him to Chelsea described him as fast, creative, enthusiastic, with a look of humble personality on the pitch. Mourinho stressed that Salah is always ready to work for his team.
8. During the 2018 FIFA World Cup qualification, Salah led his country's team to their first world cup finals since 1990. He scored five goals in all the matches including the 2 -1 victory over Congo.
9. The football star also became Liverpool's first Egyptian player after agreeing to transfer to the Reds on a long-term contract for an initial €42 million fee that could be raised to €50 million. Salah scored 44 goals for the season across all competitions, making him the club's second-highest goalscorer in a single season.
10. Amidst links to Real Madrid, there are calls for Liverpool to hold on to the Egyptian star for them to remain on course for domestic glory – not after losing Luis Suarez and Philippe Coutinho to FC Barcelona.
11. Meanwhile, the club's manager, Jurgen Klopp pointed out that it will take Salah 15 years to measure up to Real Madrid superstar and five-time Ballon d'Or winner Cristiano Ronaldo. Speculations have it that the younger football star is definitely on the right path towards 2018  Ballon d'Or contention.
12. He was born on June 15, 1992, in Nagrig, Egypt. Salah is 1.75 m tall and plays as a forward midfielder.
13. Mohamed Salah married his wife, Maggi in 2013 and the couple have a daughter named Makka born on June 2017, in Westminster Hospital south west of London.