Sulley Muniru, younger brother to Sulley Muntari recently had his contract with Steaua Bucuresti FC, terminated. The unpleasant incident occurred just two years into his four-year deal with the Romanian club.
The information was first disclosed in May by Bucuresti's Assistant Manager while speaking to Dica DigiSport.
According to him, the club reached a termination agreement with Sulley Muniru following an altercation with Florin Tanase whose contract was as well terminated.
"Already Muniru has left. In fact, he has not yet signed the termination yet. They talked with him and we reached an agreement", he told Dica DigiSport.
"There was a situation with one of his colleagues," added the assistant manager.
However, it has been revealed that the Manager's earlier reason was not actually what inspired the Ghanaian player's contract termination with the Romanian giants.
Muniru was not sacked just because of his bust-up with teammate Tanase. Although it has something to do with it, it was not the real problem.
Blacks Bring Bad Luck
Owner of Steaua Bucuresti FC, George 'Gigi' Becali, publicly declared to the shock of many, his ill feelings for black players, stating categorically that the doors of his club are not open to them.
This summer, the billionaire known to be controversial in his ways, refused to sign a footballer, exclusively because of the player's skin color.
According to GSP reports, the club's head coach, Nicolae Dica had decided on a central defender, but when the club management presented the player to Gigi Becali, they were taken aback by his absurd reaction.
Becali told them point-blank that he does not want black footballers because they bring bad luck to the club!
"He's black, I do not want blacks in the team. If they come, they only bring bad luck," he said.
Moreover, the Bucuresti owner also made it clear publicly, that the main reason he sacked Sulley Muntari's brother is the color of his skin. Expressing that Muniru has behavioral problems, Gigi asserted that the player jumped on another player, saying: "I got rid of him… I do not need any more color players".
About Sulley Muniru
Sulley Ali Sariki Muniru is a professional Ghanaian midfielder. He started his youth football career in 1999 with the Ashanti Akim Missiles in his hometown of Konongo in the Ashanti Region of Ghana. In 2007, he moved to the Liberty Professionals, where he had a five-year spell before proceeding to senior football.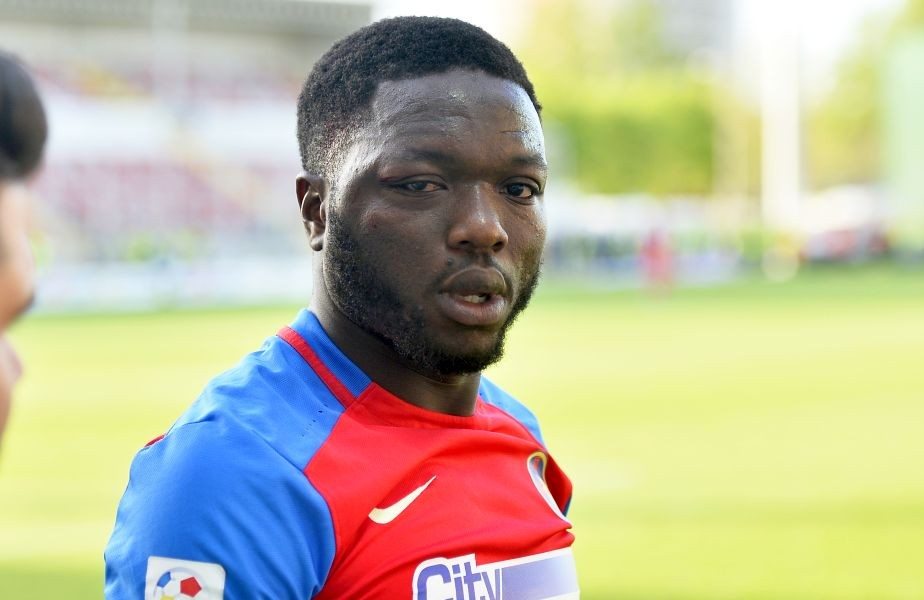 Muniru started his senior career in 2013 with Romanian side, CFR Cluj; that was his first professional football contract. The midfielder was signed as a replacement for playmaker Modou Sougou, who left for French Football Club, Marseille.
In 2015, Muniru moved from CFR Cluj to another Romanian club, Steaua Bucuresti at an alleged fee of about 500,000 euros. His contract with the club is a four-year deal, but the Romanian giants canceled it halfway – after Muniru served two years. So far, the Ghanaian player has made 61 appearances and scored four (4) goals for the European champions.
At the international level, Sulley Muniru has represented Ghana at the Under-12 and U-15 cadres. He is currently playing for C.D. Tondela as #14 / Midfielder. He signed with the Portuguese club on November 28, 2017, as a free agent on a two years deal. According to a statement released by the club, the contract will be valid until June 2019.
Prior to signing with C.D. Tondela, Muniru had trials with Polish giants Legia Warsaw and La Liga outfit Las Palmas but he failed to impress the technical handlers, hence he moved to the Portuguese minnows on a straight deal.
Sulley Muniru is the younger brother of former Ghana Black Stars midfielder Sulley Muntari. The siblings have been seen together training in Switzerland after Muniru parted ways with the Romanian club, Steaua Bucuresti FC.
Since signing with the Tondela, Muniru has made 4 appearances, but in professional career total, he has made 117 appearances and has netted 4 goals. The young footballer is known to be a versatile player who is very efficient in both the defensive and offensive.
Don't Miss: Christian Atsu: 10 Lesser Known Facts About The Ghanaian Footballer and His Newcastle Signing
Quick Facts about Sulley Muniru
Date of Birth: October 25, 1992
Birthplace: Konongo, Ghana
Age: 25
Nationality: Ghanaian
Football position: Centre Midfielder
Height: 175 cm
Weight: 73kg