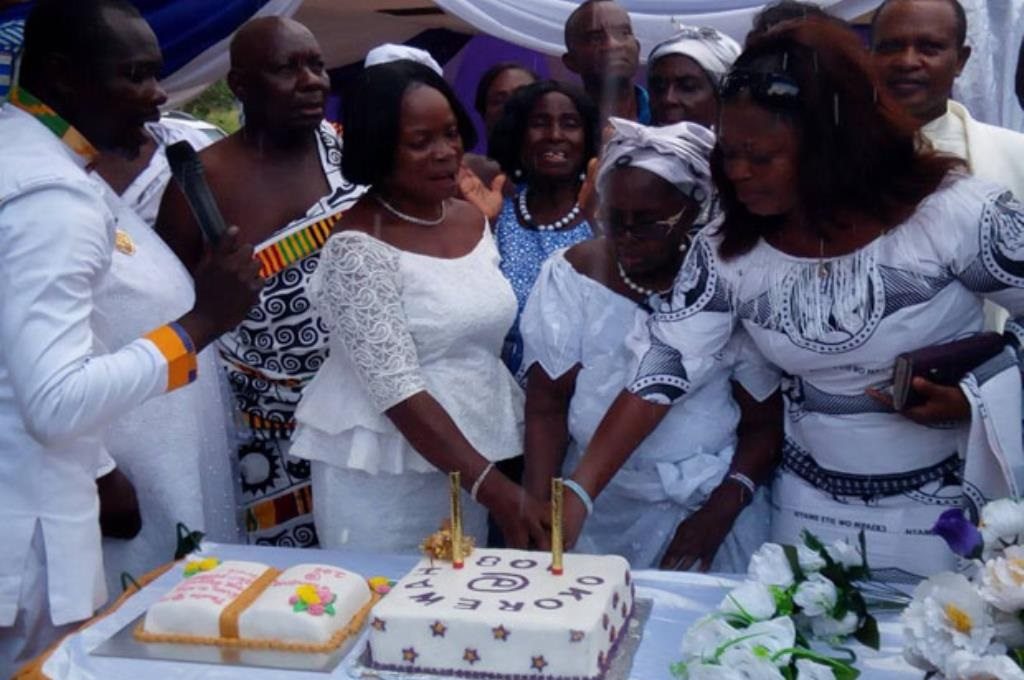 Madam Comfort Adwoa Okorewah, a woman from Akwadum, a suburb of Suhum in the Eastern Region of Ghana, celebrated her 108th birthday over the weekend in a grand style.
When we think of old age and living for a very long time here on earth, people tend to attribute it to the ancient times. This is a prevalent perception because it is believed that people of ancient times were healthier, stronger and agiler than the new generation of people as a result of the kind of foods eaten and the lifestyle practiced.
In addition, with the increasing change in climate, the rise in pollution and prevalence of deadly diseases, the human life expectancy has further been lowered a great deal with the age average pitted around 70-80 years. This is why people like Comfort Adwoa Okorewah who live over this threshold are being celebrated.
With Madam Comfort Adwoa Okorewah, her life is definitely one that deserves to be celebrated. She has outlived her peers and has done so gracefully without being a burden to her loved ones. At her age, she doesn't need much help getting around as she is a healthy woman who still has control of her limbs. Though not as strong as she was several years ago, the level of energy displayed at her age is something quite incredible. Given that most people who manage to live this long are usually more of a burden to people around as they tend to suffer from illnesses associated with old age, Comfort's life is a miracle!
For Madam Adwoa, her long life can be attributed to a few reasons, it is probable that she had an impeccable diet, was very active in her youth, engaging in activities that promote longevity or simply a divine gift from God.
To celebrate this laudable feat, a simple but colorful birthday party was held in her honor at her hometown, Akwadum, with the Suhum Municipal Chief Executive (MCE), Margaret Darko, chiefs, queen mothers, family members and other residents in the area in attendance. Unlike previous birthday marking of hers, her 108th birthday was quite exceptional. It had lots of food and drinks to go round family member and invited guests. There were also cakes as well as good music to get people to the dance floor including Madam comfort.
Considering how remarkable Madam Comfort's life and achievements are, we have picked out these very amazing facts and speculations that have trailed her life. Here we go!
1. She was once a Fetish Priestess
Comfort Adwoa Okorewah started out as a fetish priestess at the young age of 13. She practiced the pagan profession for 75 good years before she found Jesus Christ and became born-again. This practice is contemplated to have largely contributed to her long life. There are presumptions that she may have been involved in the use of supernatural powers of different kinds to enhance both her health and life. While this has not been totally ascertained it is strongly believed.
Probably, watching too many supernatural movies where fetish priests are represented as being able to use divine powers for longevity is toying with our minds…in the end, we may never know.
2. Comfort Has a Child Who's a Preacher
Interestingly, no one would have guessed that any of Madam Comfort's children would be a Christian let alone a  minister of the gospel. But this is true and a fact as one of her daughters, Rev Dora Boateng is currently a preacher and leader of "Charismatic Evangelistic Ministry".
See Also: Professor Francis Allotey Passes On 10 Quick Facts About The Iconic Mathematician
3. How She Converted to Christianity
Madam Okorewah was instructed to abandon fetishism for Christianity in a dream. Her last child, Rev Dora Boateng, a leader of the Charismatic Evangelistic Ministry (CEM), while addressing guests at her mum's birthday, explained that Okorewah had a dream in which she was directed by the Holy Spirit to convert into Christianity in order to gain salvation, and she did just that.
4. 107 Children – How?
Well, Madam Comfort does not actually have 107 kids by her own womb, what she has are 107 lives that has come through her lineage. She, therefore, has 10 children, 50 grandchildren, and 47 great-grandchildren. Isn't that amazing?
Children are said to be incredible gifts from God and true representation of multiplicity. For a woman to see her first generation even up to the third generation, such a woman can truly claim she's been abundantly blessed.