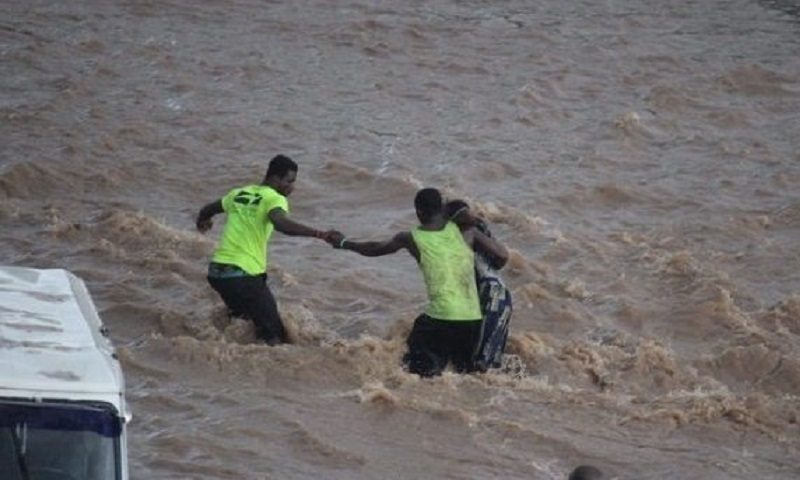 The National Disaster Management Organisation (NADMO) last year, launched a free flood forecasting app known as the Accra Flash Flood Forecasting App (FFF). The application is designed to predict flooding and specifically meant to cover and serve Accra residents in the meantime.
From what we gathered, the project was undertaken by NADMO in partnership with the United Nations Development Program while the app was developed in partnership between Royal HaskoningDHV, VIA Water, 3Di, Infoplaza, and NADMO.
The FFF app uses satellite data and a new generation of flood-modeling techniques based on meteorological and hydrological tools to accurately predict the area and extent of possible flooding two and half hours before they occur; alerting residents to take appropriate precautions.
The technology has been lauded as a good early warning system which would help the nation prepare for flooding disaster considering the high tendency of it occurring in urban areas where increased and unplanned housing and construction has resulted in high proportion of paved or impervious areas, encroachment on waterways, inadequate drainage systems, and improper waste disposal – the major causes of flooding.
However, with the Accra Flash Flood Forecasting app, residents currently living in flood-prone areas in Accra can now take control of the situation by having pre-information of possible flooding via their mobile devices. Apart from the app, residents are also being sensitized on the need to dispose of their wastes properly as the incessant disposal of wastes like bottles, plastics amongst others especially in waterways, do facilitate the flooding problem by blocking or restricting the free flow of water during heavy rainfall.
In addition to the flood forecasting app, NADMO has also developed flood vulnerability maps which will help to identify and track localities with high grounds and low grounds prone to floodings in the country. The maps are for the current situation and the projected risk in 2050. As if this wasn't brilliant enough, the app will also provide a general overview of the areas that are prone to flooding from rainfall and can be used to assist in development planning.
What's a Flash Flood?
A flash flood is a rapid flooding of geomorphically low-lying areas such as washes, rivers, dry lakes and basins. Flash floods usually occur within minutes or hours of excessive rainfall, thunderstorm, hurricane, tropical storm, a dam or levee failure, or a sudden discharge of water from a melted ice jam.
Some of the immediate effects of flash floods include ripping off of trees, destruction of buildings and bridges, catastrophic mudslides, submerging of lands, lives, and properties by water, mud or a large mass of debris, etc. During flash floods, rapidly rising floodwaters can attain heights exceeding 10 m (~30 ft).
Accra residents, as well as some other flood-prone areas in other parts of Ghana, can tell the story and describe the scenario better.
Origin of the App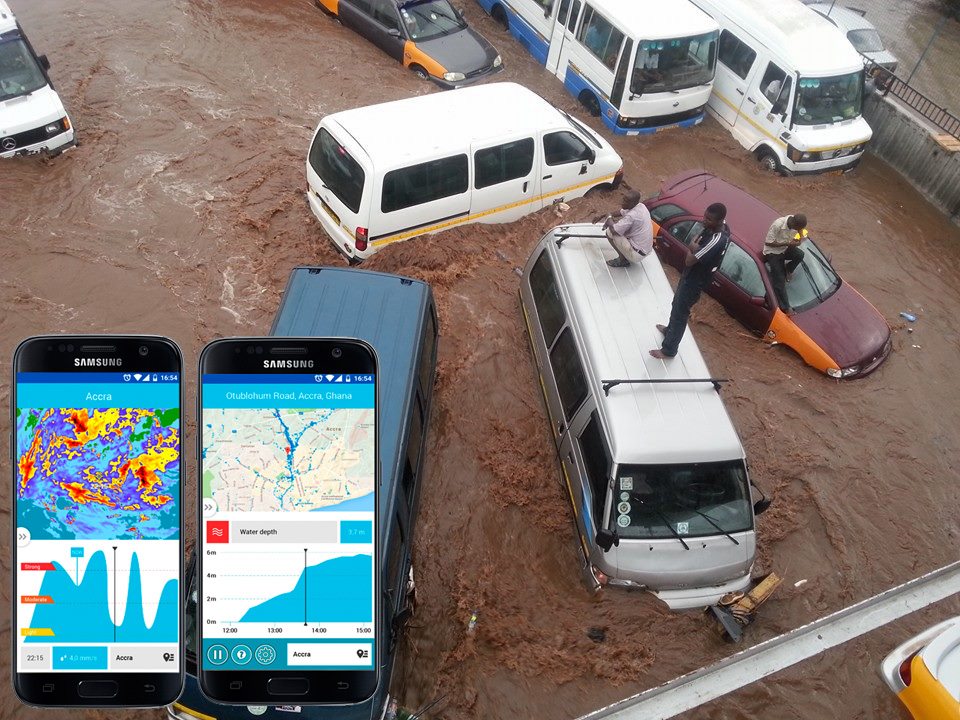 After the heavy flood which occurred in 2015, the devastation and destruction in Ghana's capital, Accra was deplorable as it claimed the lives of over 150 people as well as resulted in the loss of properties worth millions of Cedis. This led to the contraction of Flood Forecasting water specialists at Royal HaskoningDHV. They were tasked to develop and also, implement a viable system for flood interception and forwarning. This project was duly funded by the Dutch.
On a visit to the flood site, the leader of the project Hanneke Schuurmans discovered that the warning of the impending flood reached the residents a little too late to buy them time to leave the area. He attributed this to the absence of data in real time which could be trusted even after it may have been broadcast. Thus "Flash Flood Forecasting App" was designed by drawing upon the advancement in data gathering by satellites to accurately predict a flood-prone area as well as the extent or impact the flood might have on such an area.
How to Download Accra Flash Flood Forecasting App
The flood forecasting app is an android mobile application and can be downloaded from Google play store free of charge.
After a successful download and installation, you will subsequently be receiving updated weather forecast alerts and warning messages on possible disastrous rainfalls and floods.
Visit Google play store and search for Flash Flood Forecasting.
Click on the app and install.
For a straightway/shortcut download, click on this link.