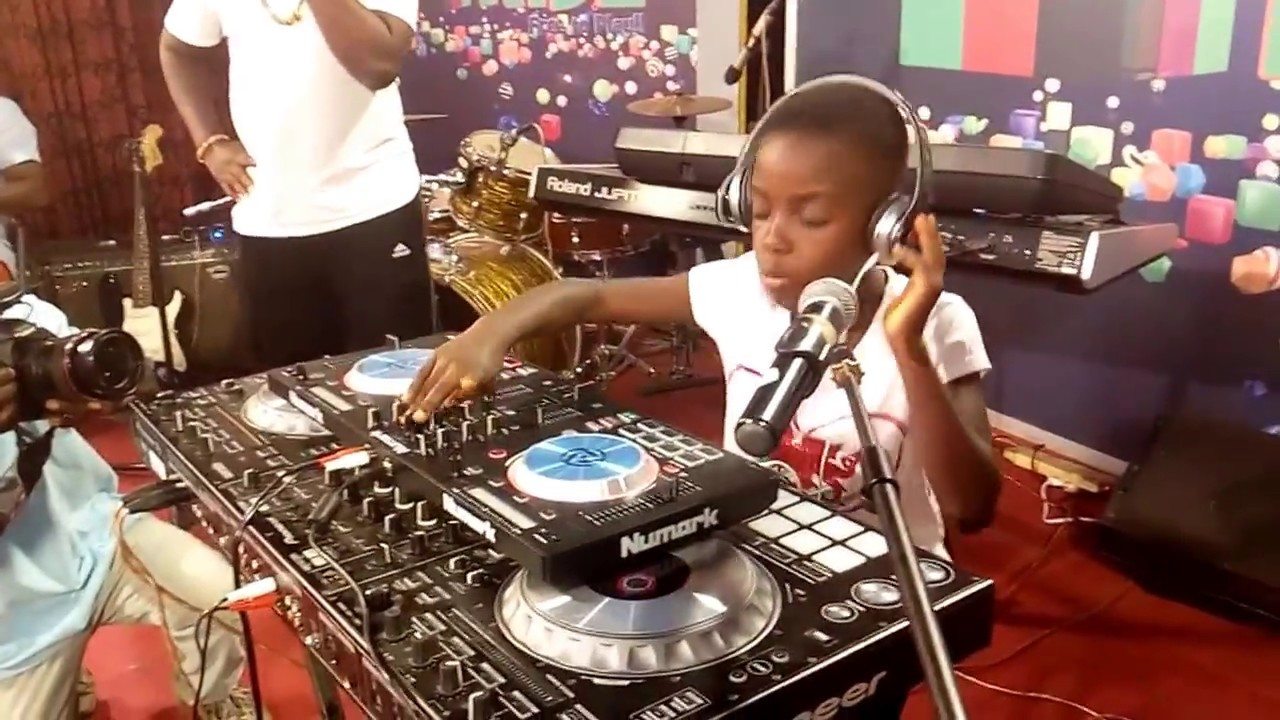 Erica Tandoh is a 9-year-old girl who became a Disc Jockey quite early and does it so wonderfully. The young child is praised as one of the most talented kids mixing high-taste tracks. Popularly called DJ Switch, the child who spins like a pro has been making waves in Ghana.
The number of children Djing in Africa is growing rapidly, but there is something special about Erica Armah Tandoh. Not only is her work exceptional, her career path is unique as most kids of her age in the country only display talents in areas like dancing, singing, rapping, poetry recital, etc. At turntables, she displays originality and this was seen during the reality show, Talented Kidz.
Erica Tandoh Biography
Erica Tandoh is the second child and only girl of Ghanaian parents with five kids. She and her family live in Dadieso, in the Western region of Ghana where she also attends a junior college known as Talented Royal International School at Weija in Accra.
The child is exceptional at Djing even though she's good at several other things. She started her Dj career when she was still 7. Then, she always pressurized her mother Ms. Lilian Oduro-Mensah to let her use her headphones. Lilian, having noticed her daughter's DJ skills, decided to encourage her to take up the dream. She hired a professional DJ trainer named DJ Faud to train and prepare her. Erica was quick to learn and shortly started performing in the limelight. The training intensified when it was time to contest in a talent show.
Erica Tandoh Career Success
Erica's biggest breakthrough came when she emerged winner of the 8th edition of TV3's children's reality show, Talented Kidz. She has since won the admiration of thousands on every social media platform that has reported her exploits.
Throughout the various stages of the competition which lasted for 13 long weeks, DJ Switch didn't cease to thrill her viewers with performances that were unbelievable for a girl of her age. Erica's confidence and dexterity in DJing are actually like no other. Her ability to mixtapes and play all by herself usually send goose pimples all over spectators, with many doubting the genuineness of what they are witnessing.
At the grand finale of the Talented Kidz Season 8, which was held at the Ghana National Theatre on Sunday, 7th May 2017, the little Disc Jockey once again wowed the audience with such an energetic and vibrant performance that saw everyone gaily chanting and dancing along. Despite facing stiff competition from other contestants such as Naquel Melodians, Christian Morgan, Louisa, Allo Dancers, Lilies Dance Crew, Praba, and Real Magicians, Erica Tandoh 'DJ Switch' was still adjudged the overall winner, indisputably!
For this outstanding feat, the young DJ pocketed a cash prize of GH¢10,000, educational fund of GH¢6,000 as well as other products and souvenirs from sponsors. She was also adjudged the 'Youngest DJ in Africa' by one of the judges who was overwhelmed by her excellent performance.
Read Also: Things to Know About Edjah Nduom 
After her victory at the competition, her coach DJ Black, a popular multiple awards winning Ghanaian Disc Jockey disclosed that Erica could emerge the best DJ in the world if given all the support she needs. According to DJ Black, the 9-year-old has a bright future as she is sharp and eager to learn. He, therefore, urged Erica Tandoh's parents to provide her with the necessary support that will advance her success.
Currently, the young girl has many endorsements under her belt and has performed in many shows including "Ghana meets Naija International Day of the African Child" held at the Lizzy Sports Complex in Accra. She has also been a special guest of honor at 2017 DJs Award at Silver Star Tower in Accra. Erica also performed at the 2017 Ghana DJ Awards gala held on 6th May 2017 which was prior to the Talented Kidz final.
Apart from Djing, Erica is a good material for the entertainment industry as she is multi-talented and can rap, dance and sing. Erica hopes to be a gynecologist in future so she will be able to help out with issues affecting women. But whatever she ends up becoming in future, the young star is not going to give up on her deejaying carer.
Below are some of the videos of her vibrant performances during the Talented Kidz Season 8 competitions