MenzGold, a Ghana-based gold dealing company has been around for some years now. The organization, however, started making media headlines a few days ago following the Bank of Ghana's issuance of a notice/warning to the general public, asking the people to be wary in their dealings with the institution, as they are not licensed by the Central Bank.
This development succeeded in stirring up massive curiosities among Ghanaians, with many yet-to-be-answered questions. It is therefore on this note that BuzzGhana brings you the top 10 most important things you need to know about MenzGold Ghana Limited.
1. MenzGold – Who They Are and What They Do
As earlier mentioned, MenzGold is a gold dealing company based in Ghana. The company which is duly registered by Ghana's 1963 Company Act (ACT 179), has its headquarters located at No. 22 Dzorwulu street, adjacent First Trust Bank, and other branches at Kasoa, Kumasi, Tema, Kanashie, etc.
It is an investment institution that buys, sells, exports and stores gold, silver, diamond and other precious stone and metals through a Bullion Banking system. Possessing a state of the art and very secured bullion vault, the company boasts banking close to five tonnes of gold, silver, and other precious stones. Their services specifically include the following:
Gold bullion Investments
The sale and purchase of precious stones and metals; smelting and assaying
Bullion depository vault services
Jewelry sales
Mining Pre-financing
2. MenzGold/MenzBanc – Any Difference?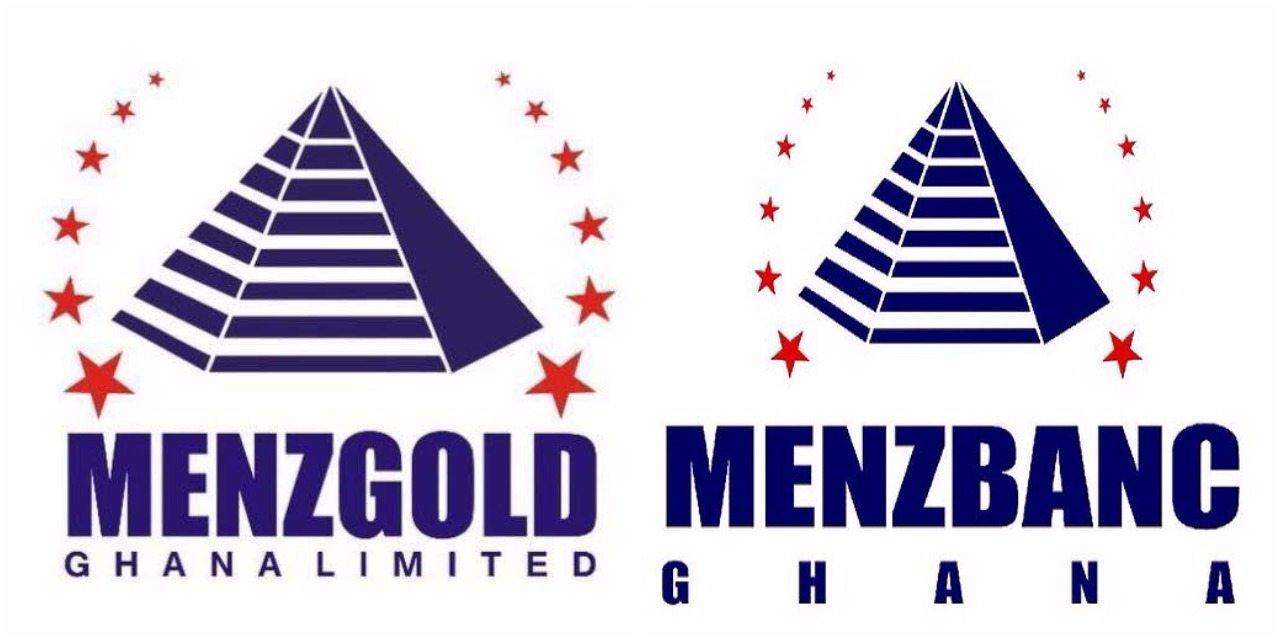 The brand names, Menzbanc and MenzGold may appear to be confusing, but the two are actually referring to the same gold investment company. It is observed that Menzbanc is the umbrella name for the institution, while MenzGold specifically directs attention to the main business of the institution – Gold.
3. MenzGold Is An Affiliate of A Switzerland Gold Bank
According to MenzGold Ghana Limited, the institution is an affiliate of Swiss Gold Global in Zurich, Switzerland.
4. It Is Ghana's 1st Bullion Bank
MenzGold prides itself as Ghana's first bullion bank! According to an explanation given out by the company on its official Facebook page, being a bullion bank means that it affords people the chance to convert their paper currency into gold. It also means having a share of the country's gold once you invest with the bank.
5. MenzGold Is Not A Financial Institution
MenzGold, as the name implies, is a gold investment company and do not accept cash deposits. In clarifying Bank of Ghana's recent concerns about the institution accepting deposits, MenzGold made it clear that their operations were licensed by the Minerals Commission of the Republic of Ghana.
In an interview with Accra-based Joy FM, the Corporate Manager of the company, Nana Yaw Offei stated that the company does not take deposits because it is not a financial institution. Nana said:
MenzGold Ghana Limited is a gold dealing firm, we buy gold and sell gold. All our operations or whatever we do in our outlet is directly linked to the sale and purchase of gold.
Reiterating their stance in a Facebook post, the company stressed that they deal only with the purchase and sales of gold. Posting an image to nail the point, they wrote:
We only accept Gold. We are not a financial institution #buypuregold #buymenzgold #tradewithtrustedbrand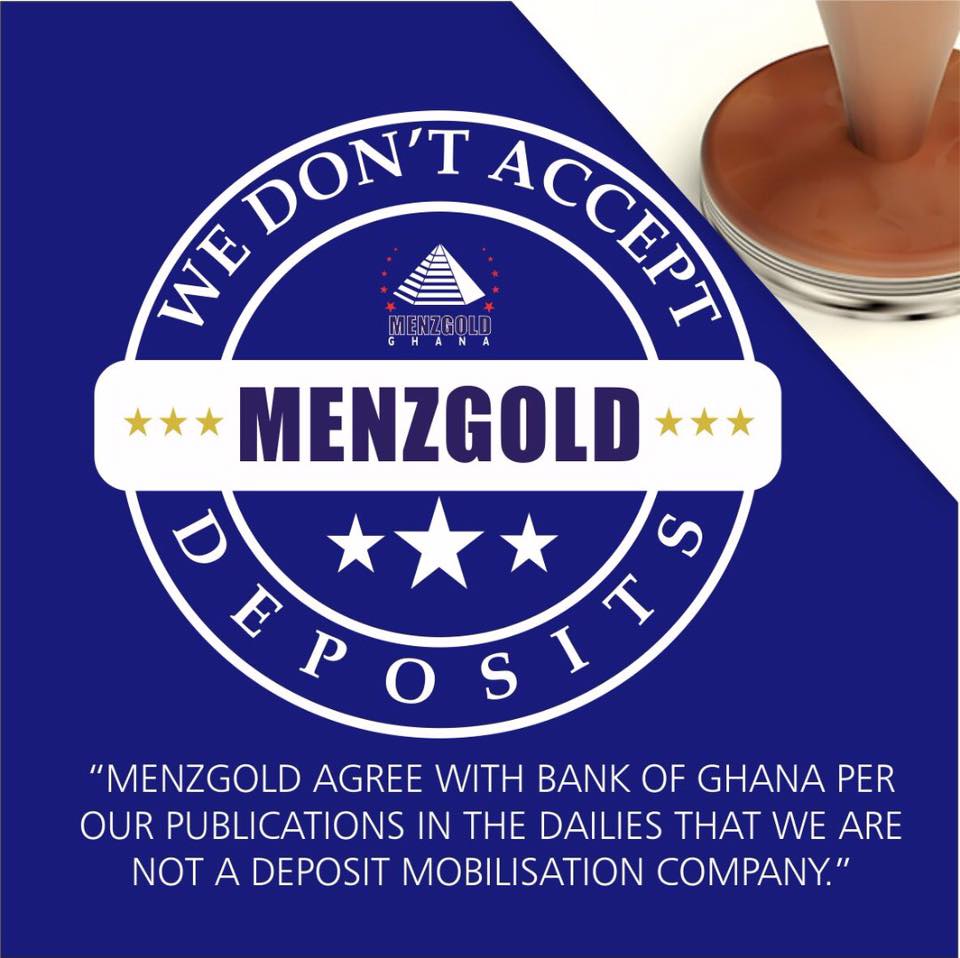 6. Investment Plans
Available at MenzGold are the weekly and monthly gold purchase plan. Depending on the chosen plan, one is expected to purchase at least 5grams of gold within the interval, to be securely stored in a vault. The process if continued uninterrupted for a year or more, one is sure to have a huge quantity of gold accumulated over the period, and the value not affected by depreciation like with paper money.
Meanwhile, there is an option to make purchases and add to one's store of gold grams, kilograms or ounces at any time.
7. Fixed and Steady Monthly Returns 
MenzGold offers a maximum of 10% monthly return on investment (ROI), thus providing individuals with a sure alternative source of income in the face of the current economic hardships.
It is perceived that the company generates its investment income by leveraging gold price increases over the long-term. This time-based spread is then shared with the "gold depositor" in the form of a fixed monthly dividend.
8. Gold Conversion
MenzGold offers services to everyone who wishes to buy, trade and store gold which are liquidated over time for extra value or processed into finished products like pieces of jewelry.
At any time of your convenience, you can place an order for your raw/pure gold in the vault to be converted into fine collectibles, which include any kind of jewelry, among other things. The end product will be safely delivered to you regardless of your destination in the globe at a very affordable fee.
9. Cash Withdrawals
In association with Ecobank, MenzGold affords her customers the opportunity to make cash withdrawals from anywhere in the world using a checkbook and a visa debit card. This is, however, only possible when you opt for all or a proportion of the extra value on your gold to be liquidated for cash and credited into your Ecobank account.
An investor is entitled to the cheque and Visa Card when he or she subscribes to the Gold Vault Market program by consenting to its governing terms and conditions.
10. Enrollment and Rewards
Per MenzGold's terms and conditions, every member will subscribe once with a non-refundable amount of GHS 1,500 only. An account does not at any point assume dormancy or expiration once a subscriber has successfully enrolled in the program.
Moreover, a subscriber gets rewarded with 7.75 grams of 999.5 pure 24-carat gold within 24 hours, anytime he/she has successfully enrolled an individual. The company also grants subscribers, an instant buy-back option after the acknowledgment of receipt of the gold reward.
Caution: Even when the credibility of an investment institution such as this is unquestionable, you are always advised to invest with your spare money.
Did you find this article useful? Please, let's know your feelings in the comment section below.