With the growing tensions between the flag bearers of the two major political parties; John Dramani Mahama of the ruling National Democratic Congress (NDC) and Nana Dankwa Akufo-Addo of the opposition – New Patriotic Party (NPP), one may begin to think that the two will no longer be crossing same paths.
Curious about what the relationship between Mahama and Nana Addo looks like over time, we went into research and took hold of the most convincing evidence – photos!
From our discoveries, perceptions that they may be at loggerheads are proven completely wrong by the height of friendship still existing between them.
This is fully portrayed in their friendly handshakes which is always full of laughter and other instances shown in the images below: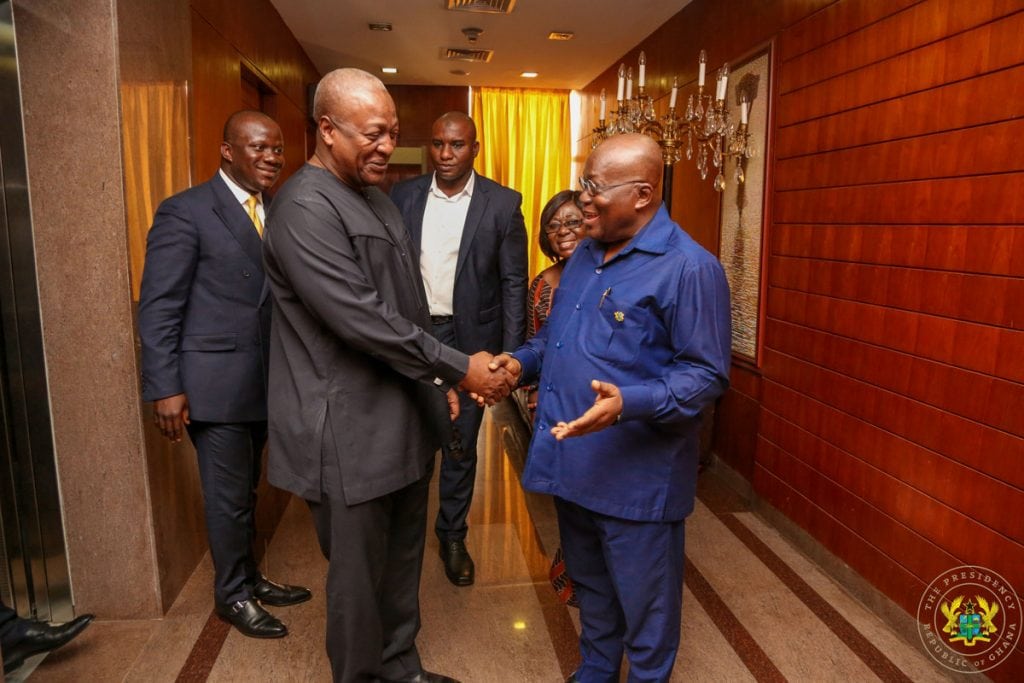 John Mahama shaking hands with Akufo-Addo at the Jubilee house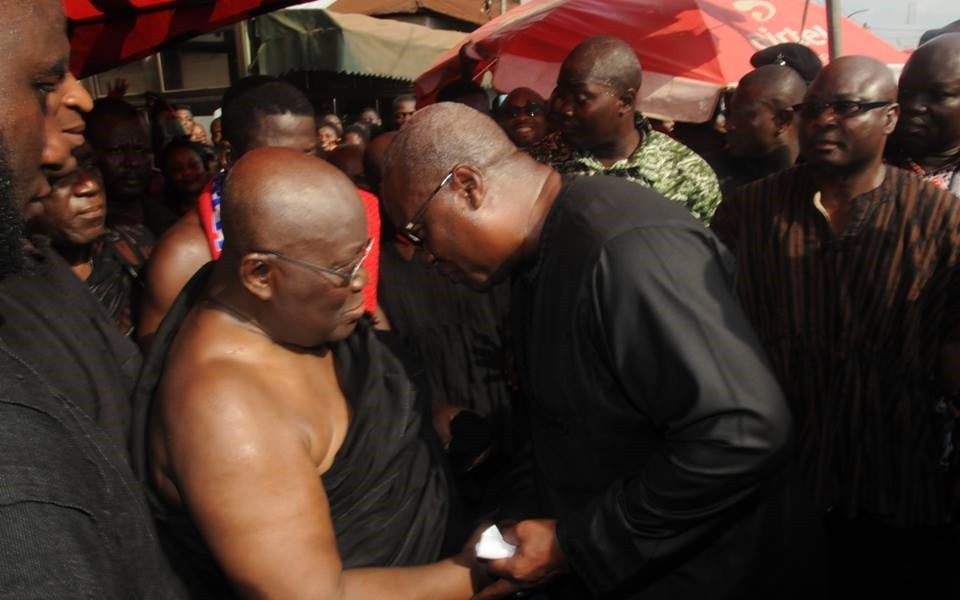 Mahama exchanging greetings with Nana Akufo-Addo at Bantamahene's funeral in Kumasi.
John Mahama (then President) and Nana Akufo-Addo at the Odwira festival in Akropong-Akuapem, October 10, 2014.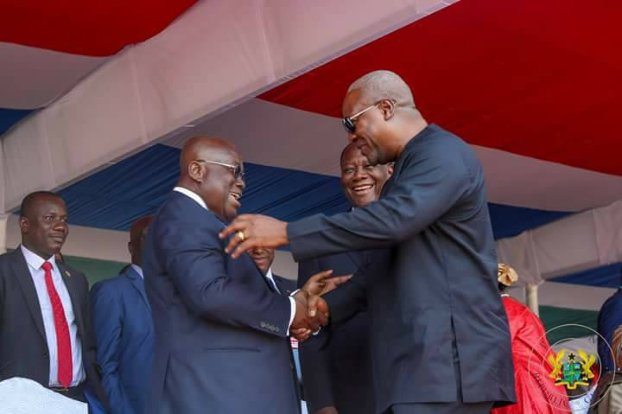 We believe these photos will go a long way to discourage violence between supporters of these two opposing parties. They could now see that the people for whom they would want to kill one another at the onset of the slightest argument are getting on well with each other.
Notwithstanding, being cordial or in friendship, doesn't stop criticism from both sides. For all we know, it's all part of the strategies to gain political tractions. It is safe to say that's what politicking is all about.
On May 2018, Mahama accused President Nana Akufo-Addo of ruling the country with his "family and friends," and described his administration as "super incompetence". Meanwhile, the president has been warned to be wary of fair-weather friends.
Both men of power have been compared and contrasted by prominent supporters in the wake of Mahama's open interest to run as NDC's flag-bearer come 2020.
Dr. Kwesi Amakye, a political science lecturer at the Kwame Nkrumah University of Science and Technology (KNUST) believes the former president John Mahama doesn't stand a chance against Akufo-Addo. According to him, Mr. Mahama is not ready to take Ghana forward because he has not made any admission of his mistakes during his term as president when corruption thrived.
But then, the Founder and Pastor of Christ Revival Baptist Church, Prophet Adu-Boahen has prophesied that the Nana Addo Dankwa Akufo-Addo camp will lose the 2020 general elections no matter the infrastructural projects he will embark on for the following reasons:
1. Majority of Ghanaians who voted massively for him to win the 2016 general elections are not happy with his government.
2. Ghanaians have been let down by the confidence reposed in the President to change the fortunes of the country.
3. Only a few people – family and friends, are enjoying the benefits of the Akufo-Addo's government.
4. Policies such as the one-district-one factory, free SHS, Planting for food and jobs, restoration of nurses and teachers trainee allowances churned out by the President will not win him votes.
See Also: 20 Most Beautiful and Fascinating Photos from Ghana's 60th Independence Day Celebration
The prophet stated that the 2020 elections will not be in favor of President Akufo-Addo; that Mr. Mahama's win will come as a surprise to NPP supporters.
Amidst all the political squabbles, both politicians have clearly maintained a cordial relationship for obvious reasons – Politics is just a game.