News of Paapa Yankson's death came unexpectedly, sources close to his family revealed that he died at his residence in Dansoman, Accra, Ghana. He reportedly passed in his sleep, at the age of 73.
Recall that for some years now, the ace hi-life artiste has been confined to a wheelchair due to ill health. His last public appearance is noted to be at the 2017 Vodafone Ghana Music Awards (VGMAs) held on the evening of Saturday, 8th April 2017.
His family has revealed that the music legend will be laid to rest on Saturday, October 21st, 2017, at Apam in the Central Region. His final funeral rites will follow the next day, October, 22.
Paapa Yankson's Death – Lessons from his Life
Paapa Yankson's death has indeed got many who knew him thinking and reminiscing. Here are some of the most striking points in his life with significant lessons.
1. His Funeral Debuts
Paapa Yankson's songs have always been described as music that gives life to dead souls. Of course, this has a lot to do with how he started his music career. Born Benjamin Paapa Kofi Yankson on June 22, 1944, at Winneba; Paapa Yankson first displayed his inborn music talent publicly at a neighbor's funeral.
In a similar occasion – his own mother's funeral, he landed his first music contract. And for more than 30 years, Paapa Yankson has produced music that has brought life to many dead souls.
2. The Marriage Between His Background and Career
There was actually a marriage between where he came from and what he became, fulfilling the proverb that a snake must give birth to a long creature.
Paapa's parents were both musicians – his father was a reputable trumpeter with the Apam Brass Band while his mother was a member of the Christ Little Band of the Methodist Church. They, however, never wanted their son to take up singing; they preferred a white-collar job.
To have his parents' wish fulfilled, Paapa Yankson enrolled at the Ahantaman Secondary Commercial School after he completed his basic education and obtained a certificate in stenography. On graduation, he landed a job at the Kingsway Chemists Limited and subsequently at the African Timber and Plywood Company, a subsidiary of the United African Company (UAC), at Samreboi, where he worked as a stenographer.
However, his bond with music being very much alive, he started playing as a lead singer for the UAC band, the Big Sound Band, while he worked as a stenographer for the company.
3. Full Comeback to His Ideal Profession
When Yankson's mother died, he came down to Takoradi for the funeral where he barged into the Carousel Seven, the same live band he played for years bank during a neighbor's funeral. After the burial, the leader of the band, recommended Paapa Yankson to the proprietor, for him to be taken to play with his band – Paapa Yankson gladly took up the job.
To get grounded in his newfound career, he enrolled for diploma programme in music at the National Academy of Music, Winneba in 1975. On graduation, he took up a job as music organizer at the Garrisons Education Unit, Burma Camp, Accra.
4. Relevant Till Death
It is certainly no overstatement to say that Paapa Yankson remained relevant till his death. Even during the later years of his wheelchair-bound condition, he continued to perform.
Late last year, 'Da Paapa' flouted hospital regulations and left his hospital bed to perform at the first edition of the Bottles & Bands festival held at the Accra Polo Grounds on November 19, 2017.
Addressing the audience at the occasion, he said: "I had to leave the hospital and come here to perform for you, and it's all because of the love I have for you".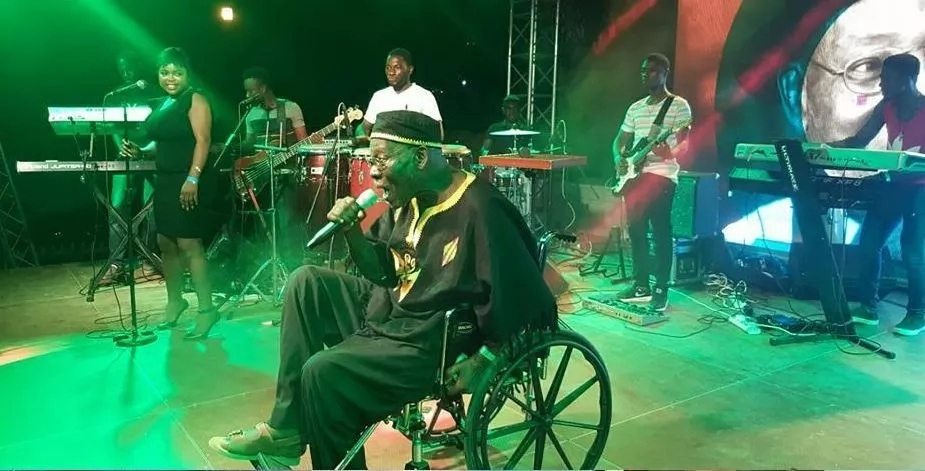 The latest of his daring attitude came at the 2017 VGMAs earlier this year where he was honored with the Lifetime Achievement Award.
Dedicating the award to a fellow ace musician, Charles Kofi Amankwaah Mann popularly known as CK Mann, Paapa Yankson recounted how he competed with him on the entertainment field before finally making a breakthrough. He also gave out a touching speech on coming back to the music scene soon.
But Alas, he didn't make it!
Watch Paapa Yankson speak at the 2017 VGMA in the video below:
5. Life Achievements
Paapa's life achievements are really a reflection of hard work and dedication. The Okukuseku hitmaker has 15 albums and many songs to his credit, some of which earned several nominations and national awards.
In 1997, his composition 'Yaaba' won an award for Best Composition during the Komkomba Awards. Some of his hit songs include 'Wiase Mu Nsem', 'Show Your Love',' 'Wo Yere Anaa Wo Maame', 'Tena Menkyen', 'Okukuseku', etc.
Throughout his music career, Paapa was instrumental in the revival and projection of several music bands such as The Western Diamond Band, The Gold Nuggets and The Carousel Seven.
He also taught and performed in many countries around the world including the USA, Canada, Belgium, Britain, Germany, Holland, Nigeria, Benin and Ivory Coast.